EA Sports sim: La Roja's Confed glory
It's time for the Confed Cup final and using EA SPORTS FIFA 13, we ran a simulation of the historical clash between host Brazil and tournament favorite Spain. The game predicted that Spain would prove triumphant with a 2-0 victory, leaving the home crowd stunned and forced to wait for the 2014 FIFA World Cup for another shot at international glory.

Game Simulation Details:
The Spaniards re-cemented their position atop international soccer with hard fought victory over Brazil. Claiming 60% of the possession, Spain stuck to plan with slow build-up play through Xavi and Iniesta that seemed to frustrate Brazil throughout the first half. Plenty of off-target shots came from both teams, challenging neither goalkeeper in the opening 45 minutes.

The second half saw the Brazilians fly out the gate determined to do their nation proud; however Iker Casillas was up to the task, stopping two key blasts from Hulk and Neymar in the 50th and 53rd that quickly dispelled any momentum the Brazilians had built up.

The game seemed to be headed towards extra time until David Villa broke the deadlock in the 76th minute from a brilliant Iniesta cross. Despite another Brazilian attack, Spain's patience and stellar defending paid off in the 88th minute to seal its Confederation Cup victory. It took another intelligent play by Iniesta, finding Busquets' run just inside the box, who was able to calmly finish the play with a goal.

Scoring Summary:
ESP – Villa (Iniesta 1) 76"
ESP – Busquets (Iniesta 2) 88"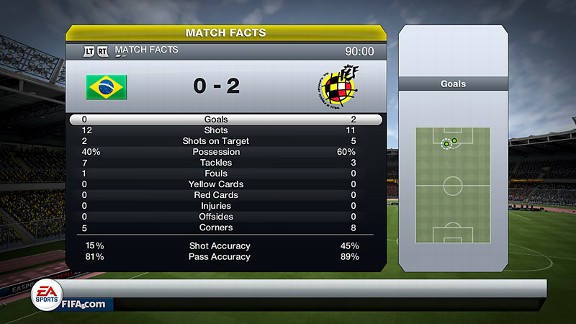 Courtesy of EA SportsSpain's possession and persistence was enough to overcome host nation Brazil in the Confed final.