EA Sports simulation: Hosts advance to Confederations final


Brazil and Uruguay have a footballing rivalry that goes back through the generations, with this Wednesday's Confed Cup semifinal clash being yet another chance for one soccer power to assert itself over the other. But how might it play out? (ESPN, 2:30 p.m. ET) With the help of our friends at EA Sports, ESPN ran a FIFA 13 simulation of the action.

So who advanced?

Uruguay got off to a flying start, stunning the hosts with a goal in the second minute. An uncharacteristic, misplaced pass from Brazilian midfielder Hernanes led to a counterattack that saw Luis Suarez calmly drill a shot from just inside box. The lead did not last, as Brazil responded swiftly with excellent passing play that left Neymar wide open, beating the offside trap to tie the score in the 13th minute.

The second half saw continued and relentless pressure from Brazil. David Luiz stole the show, putting real daylight between the teams with two goals in rapid succession; a brilliant free kick from set-piece in the 67th minute from just outside the box, followed an unforgiving header goal off a corner kick in the 70th. Uruguay made it interesting by adding another goal in the 85th minute from Edison Cavani; however, their high pressure play caught up with them in the 89th minute. Fred sealed the deal with a counterattack goal that would see Brazil off to the Cup final with a 4-2 victory to play the winner of Spain-Italy.

Defender David Luiz was awarded with 'Man of the Match' for his effort in the victory.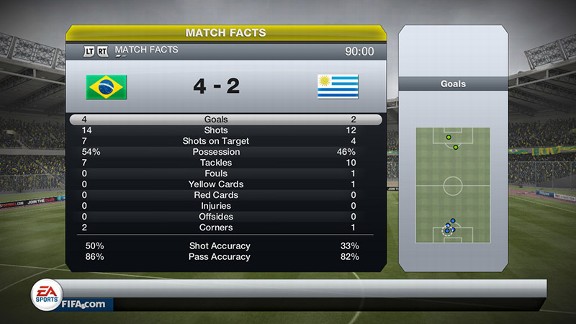 EA SportsBrazil used relentless second-half pressure to eliminate Uruguay.
Scoring summary:

URU – Suarez (Hernandez 1) 2'
BRA – Neymar (Fred 1) 13'
BRA – Luiz (Unassisted) 67'
BRA – Luiz (Hernanes) 70'
URU – Cavani (Unassisted) 85'
BRA – Fred (Hulk 1) 89'