From fantasy to reality: The story of Vugar Huseynzade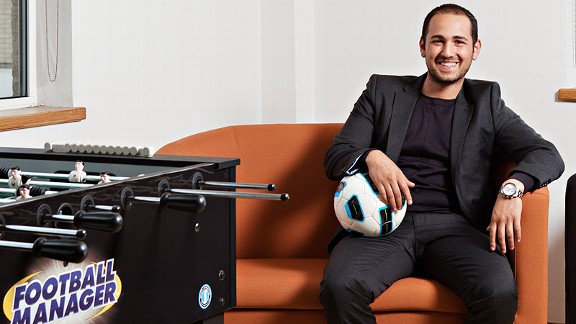 Iona HodgsonThe boy who would be king: Vugar Huseynzade went from an expert at playing Football Manager to managing FC Baku in Azerbaijan.
Those of us who suffer an addiction to "Football Manager," a condition as incurable as a zombie's bite, will know the feeling well. We've all voiced it at some point. It is the strange belief that because of your skills on the laptop, and in spite of your complete absence of appropriate experience, surely you could manage a real football team and take it to the top. Well, in November 2012, 22-year-old Vugar Huseynzade was offered the chance to prove it.

Despite his tender years and a background in risk management, "Football Manager" fan Huseynzade is the current manager of Azerbaijani Premier League side FC Baku. Like a geeky remake of cult movie "Weird Science," from the computer programme came something all too real. And while FC Baku might not seem as attractive a proposition as Kelly Le Brock, for millions of "Football Manager" gamers around the world, it sounded like a dream come true.

Naturally, Huseynzade is at pains to point out that he did not land the job of a lifetime purely because of his expertise on a game.

"The headlines last year were a bit wrong," he told ESPNFC this week. "When a Swedish newspaper first contacted me they asked what my experience of football was. I said, 'The closest thing that I know is playing Football Manager.'"

To Huseynzade's frustration, the story made the newspapers all over the world.

"I don't think anybody would be able to get a job because of 'Football Manager.' But, of course, it helped me a lot. My job here is not 100 percent as it is in this game, it is 50 percent. In 'Football Manager' you are a coach, but I am not a coach. I am more like a director of football, working above the coach. But I have responsibilities, signing contracts, scouting systems, dealing with fans, the long-term strategy."

Huseynzade was born in Azerbaijan, but was raised and educated in Sweden. An intelligent and confident young man, he is also a passionate football supporter who used to travel to watch games whenever he could, whatever the standard. It was on one of these trips that he made contact with FC Baku.

"One summer, I decided to go and watch a European game between an Azerbaijani side and a Lithuanian side. The president of FC Baku, Hafiz Mammadov, was there and he had heard about me. In countries like Azerbaijan, you see, it is very special for young students to travel abroad to study. So we met and he said to me, 'Finish university and maybe, in the future, you will be the manager.' I didn't think he was serious. I never imagined that I would be working in football. I imagined that I would be working in business."

When Huseynzade completed his studies and returned to Azerbaijan, he took an office job, but continued to attend games as often as he could.

"When the president heard about this he contacted me and he offered me the manager's job. At first I was shocked, but of course I said yes. Who wouldn't?"

But Huseynzade underestimated the gulf between fantasy and reality. While gamers all over the world rejoiced that one of their own had made it, the FC Baku dressing room was distinctly unamused.

"At the beginning, I had troubles with the players because they did not really want to accept a young guy like me as their manager," he says. "They didn't take my decisions seriously. I'm young and football players are normally very selfish. It's very hard. I've never been in a situation where I have to keep 30 people happy.

"I was one of those guys who always wanted to be in the changing room before and after the game to see how the players were," Huseynzade adds. "I always dreamed to see those emotions, to see how it feels to be in there after the game. At the beginning I had problems. I never thought that players would get so emotional. You can't really say whatever you think because emotions can explode into arguments and fights. So I learned to be more cool in the changing room after the game and deal with mistakes the day after. When I showed my personality, my passion for the work, that I'm very serious about everything I do, then all the players started to respect me and I respect them back."

Baku finished fifth in the Premier League season, and Huseynzade is already planning for the new season.

"I do not consider fifth place a success. I was planning to play in Europe. That is my ambition, to take FC Baku to the Champions League group stage."

But now that he has the real thing to contend with, does he still play "Football Manager"?

"I was playing it a couple of hours ago!" he laughs. "I was playing it on the flight to London. I wanted to see what it would be like to replace Sir Alex Ferguson at Old Trafford! The game is getting more realistic all the time. Of course, it is not quite real life, but you still feel the passion. "

See what I mean? Incurable.