Bala Town's unlikely European adventure
They hail from a village in the Welsh valleys with a population of less than 2,000. Their players are part-time and combine football with ordinary jobs. Even their manager runs a construction firm when he isn't taking training sessions. So what on earth are Bala Town doing in next season's Europa League?

Ten years ago, Bala were playing on open fields in the Wrexham Area League. Under the stewardship of burly Liverpudlian manager Colin Caton, they rose to the Cymru Alliance League and then, in 2009, to the Welsh Premier League. This in itself was astonishing progress for such a small club. To then go and qualify for European football is an underdog story that makes 'The Mighty Ducks' look like a Manchester United season review.

It's all the more extraordinary given that Bala failed to win any of their first six league games of the season and, prior to the run of 13 straight victories that propelled them into the play-offs and beyond, they'd been beaten 3-6 at home to Connor's Quay.

I decided to investigate further.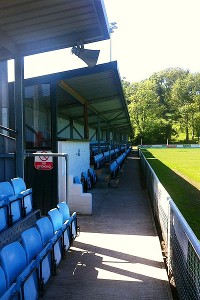 Iain MacintoshBala's home ground of Maes Teggid seats a comfy 504 attendees.
I arrived in Bala on a glorious summer's day and drove straight past the club's stadium without even noticing it. It's an easy mistake to make. Set back from the road, Maes Teggid consists of a two low level stands down one touchline, a small, glass-fronted four-seater corporate box with a TV gantry on the roof and a shallow, covered area of terracing behind one goal. The 504 seats are hand-me-downs, liberated from Coventry and Chesterfield's old homes, but they're lovingly maintained by a team of volunteers who give up their time to sweep and clear the litter after every game.

The dressing rooms are spartan and basic. Only the home team have electricity and a walled-off shower. The visitors have to queue to use one of the six shower heads that run along the wall of their changing room. Motivational posters line the tiled walls of Bala's territory, including the rather foreboding, "Mess with one of us, you mess with us ALL."

Unsurprisingly, UEFA regulations will prevent Maes Teggid from hosting any Europa League fixtures, so Bala will have to decamp to Rhyl, 40 miles up the road, when they come to 'host' their leg. Not that this has dampened anyone's spirits. Everywhere you go, which can never be very far given that Bala is known in some quarters as 'the town with one street', people are excited to find out who their team will be playing in Europe next season. So how has this happened?

"There has been a lot of hard work," understates club director Gareth Moon. "And not just from the players. The committee members who have been here since the beginning started with just a playing field and they've worked their way up to a stadium. The backing from our owner Nigel Ackroyd has helped to pay the bills, but the decision to install Colin Caton as manager has been instrumental to everything."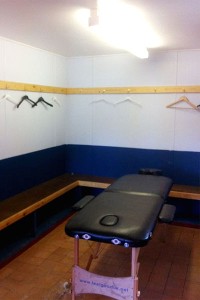 Iain MacintoshOnly but the bare essentials in the Bala Town dressing room.
Caton is not a man who is comfortable with either praise or media attention, which is unfortunate given how much of both he receives these days. Owner of Caton Building & Renovations Ltd, he still advertises his services on a small billboard on one of the touchlines.

"I never intended to be the manager here," says Caton matter-of-factly. "I was going to take a year off football after my playing career ended, but Nigel Ackroyd pestered me and pestered me. I said I'd take training on a week-to-week basis until he found someone and that's the same arrangement we've got now, ten years on. We've never spoken about contracts or anything. I just turn up and do it until I'm told not to.

"When I started here, we used to go to places where the council wouldn't unlock the gates until 20 minutes before kick-off. We'd be stood outside for an hour waiting for the keys. Now it's all changed and it's good for the town. It puts Bala on the map, it promotes tourism and that benefits everyone, particularly the Bed and Breakfasts and the pubs."

Bala could certainly do with the help. Set on the fringes of the Snowdonia National Park, it's a beautiful village with a welcoming atmosphere. The nearby Bala Lake, the largest natural body of water in Wales, helps to attract tourists, but times have been hard and jobs are scarce.

- Video: Caton talks about clinching European spot

But not everyone is so pleased about Bala Town's rise to prominence. Rival club Prestatyn's goalkeeper John Hill-Dent recently poured scorn on the idea that the club should be held up as underdogs, tweeting, "Over-achieving? They've got one of the biggest budgets in the league!"

When presented with Hill-Dent's view, Caton chose his words carefully.

"John's entitled to his opinion," he said diplomatically. "But to think we've got massive amounts of money... We've just lost our striker Lee Hunt to them because they're paying him nearly treble the wages, so I don't how much money we're supposed to have, but they've obviously got more."

Local feuds notwithstanding, these are exciting times for the club. New sponsorship deals have been signed, there are thriving academy teams at varying levels for both boys and girls and, perhaps most importantly, Caton has dismissed any suggestion that he might be lured elsewhere.

"I'm happy where I am. As a player and a manager, I've had two clubs in 23 years. I think that says a lot."

But Caton wouldn't be drawn into commenting too much on what lies ahead, his guard slipping and revealing a smile only when the mention of an unlikely clash with Everton was mooted. "That," he said, "would be great."

UEFA will make the draw for the first and second preliminary rounds in Nyon on June 24. The first game will kick-off less than two weeks later. Behind the scenes, it will be administrative chaos. On the training field, Caton will simply continue without his contract, turning up and doing his job until someone says otherwise.

Brace yourself, Europe. Bala are coming.