Hughes bags best job of the summer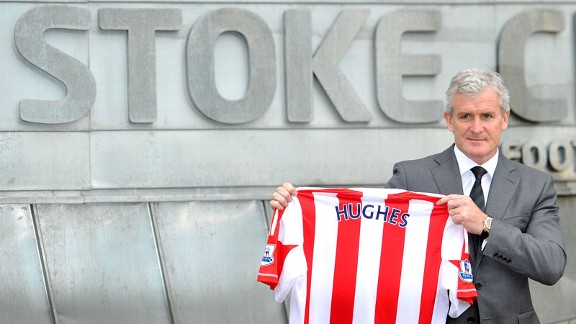 GettyImagesMark Hughes replaces Tony Pulis as manager of Stoke City
The vacancy at Stoke City was the best in English football this summer. Stop laughing, it's absolutely true. At the top, David Moyes and, in all likelihood, Jose Mourinho and Manuel Pellegrini will know that anything other than first place next season is a failure. There are shoes the size of canoes to fill at Goodison Park. At the Britannia Stadium, by contrast, there are relatively low expectations for both results and style. They have a generous, patient backer, a ferocious support, a good stadium and a clearly defined objective of, here's that word again, holistic advancement. It is, by any definition, A Project. So with that in mind, is Mark Hughes really the right person to take over?

- Whittaker: Sparky charged with igniting Stoke

Hughes, after all, has headed up two Projects in the past. He was the man on the spot at Manchester City when the door opened and a tidal wave of Sheikh Mansour's money crashed into the front room dumping a clearly confused Robinho in the fireplace. The first tranche of transfers in January 2009 brought only a tenth place finish. The second brought a good start, an extraordinary run of seven consecutive draws and the sack just before Christmas 2009. Nevertheless, it wold be unwise to read too much into such a surreal situation. With so many transfers and so much transition behind the scenes, it's hardly surprising that the team struggled to gel. Hughes clearly should have done better, but there are at least extenuating circumstances for his failure.

There are none for the monumental cluster-fudge that was Queens Park Rangers. Taking over from Neil Warnock, Hughes signed Djibril Cisse and Bobby Zamora on lucrative contracts and won just once in his first eight games. But he turned the team around with a scarcely believable comeback against Liverpool kick-starting a run of five consecutive home victories that was enough to secure their place in the Premier League. Relieved to have survived, Hughes promised that the club would never be in that situation again, and he was true to his word. Never again did they look like surviving in the Premier League.

With an enormous transfer budget and wage bill, Hughes went on a baffling recruitment campaign which included signing the England goalkeeper Rob Green in June, only to replace him with the Brazil goalkeeper Julio Cesar before the end of August. Hughes signed players like Jose Bosingwa and Park Ji-Sung, who were clearly past it, and men like Stephane Mbia who didn't seem to know which club he'd joined. With a dressing room hopelessly compromised by inequity and resentment, QPR didn't win a single league game until December 15, but by that point, Hughes had already left the building.

However, Stoke chairman Peter Coates has insisted that he preferred to focus on the first page of Hughes' CV and happier times. Hughes began his managerial career with Wales, and nearly led them to their first international tournament since 1958. His efforts there earned him the Blackburn job where he claimed two top eight finishes and led the team to some impressive cup runs both at home and in Europe. More pertinently, given what would happen at Loftus Road, he assembled an excellent squad of players on a limited budget.

He wasn't too bad at Fulham in the 2010-11 season either. Having won just two games before Christmas, he revived the Cottagers with another nine in the second half of the campaign. That said, Coates would do well to recall that Hughes walked out on Fulham with his agent, the ubiquitous Kia Joorabchian, claiming that the club did not match his client's ambition.

Coates certainly isn't lacking in that department. He has funnelled vast amounts of cash into Stoke, sanctioning salaries and transfer fees that would make other chairmen's eyes water. He will continue to back the club, but he doesn't want it to be overly reliant on his investment. One of the reasons for the departure of Tony Pulis is that the Welshman wasn't thought to be enthusiastic about a greater reliance on the academy, a point it should be noted that Pulis disputes. Coates had also concluded that the style of football required to get into the Premier League and to stay there is not necessarily the style of football required for the future, not if you want to attract any new supporters anyway. It was certainly time for a change at The Britannia Stadium. The only question is what kind of change he will get.

What he wants now is the Hughes who turned Blackburn into a formidable Premier League outfit, more likely to push for Europe than to flirt with relegation. What he must hope to avoid is the Hughes whose reckless recruitment policies holed QPR below the water-line. At least, having made his fortune in the gaming industry, Coates has some experience when it comes to a gamble. Hughes has much to prove.