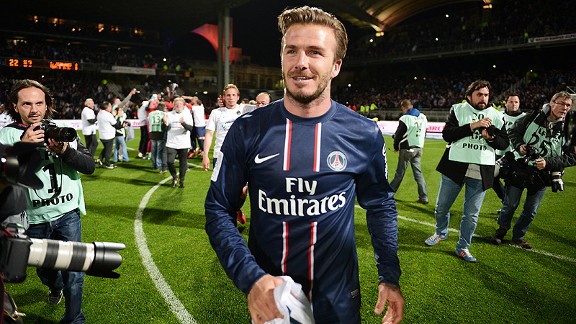 Philippe Desmazes/AFP/Getty Images David Beckham never buckled in his career while playing under an intense media spotlight.
David Beckham first appeared on television as a spiky-haired child, excitedly burbling about his ambitions to be a professional footballer. If you were one of the few to see it, you probably smiled indulgently and then forgot all about him. Now it seems that there is barely a soul on the planet who hasn't seen him on television. Beckham is, for two more weeks anyway, the most famous footballer on Earth. It's an extraordinary outcome for someone who wasn't even the best footballer on his team for much of his career.

- Beckham to retire at season end
- Johnson: Au revoir, Beckham
- Payne: Footballer, superstar, United legend
- SportsNation: Becks the best?

That might sound unnecessarily harsh. Beckham was, of course, an excellent footballer, a man who allied his natural strengths to a determined programme of hard work from an early age. But in terms of natural talent, he wasn't in the same class as Paul Scholes at Manchester United. He was well-liked at Real Madrid, but he wasn't as good as Zinedine Zidane or Ronaldo. When he broke into the England team, it was at the close of Paul Gascoigne's career. Now he was a football genius. With the exception of Beckham's time in the United States, there were always better natural players around him.

Yet that shouldn't diminish his achievements, it should enhance them. While Gascoigne squandered his talents, Beckham squeezed everything out of his career from the first day to the last. And while he pushed himself to the limit on the pitch, his profile skyrocketed away from it. He has always been, as Derek Zoolander might put it, "really, really, really ridiculously good-looking."

Back in 2004, while watching England on the television in a London pub, a work colleague of mine inadvertently summed up the mind-boggling level of celebrity that he had reached.

"Gosh," she said. "Isn't it weird watching Beckham play football?"

To her, and to others who didn't follow the game, he was just a ubiquitous, ever-burning ball of fame. Like a male Kardashian or Hilton, people might not have known exactly what he did for a living, but by thunder, they knew what he looked like in his underpants. He was essentially two different people: Beckham the footballer and Beckham the celebrity.

For non-football fans, even Beckham's mistakes were markedly different. England supporters might recall with a grimace his foolish kick at Diego Simone in the 1998 World Cup, a particularly silly act that resulted in a red card, England's exit from the tournament and an entirely unhinged national hate campaign complete with burning effigies. His 'celebrity' fans would remember the sarong he wore in the same year.

But the funny thing about Beckham, the principal reason for his success was that neither genre of mistake was allowed to disrupt his career. And what a career it was. Ten league titles in four countries, 115 international caps and an OBE from the Queen. He did it all in spite of a media profile that would have crushed most men to a pulp, leaving them no option but to burst into tears on Oprah's sofa and ask for forgiveness.

We readily accept the price of fame when it is charged, but we are too slow to acknowledge when somehow it hasn't been added to the bill. Tiger Woods, Lance Armstrong, George Best -- we've seen them all buckle under something. But Beckham never buckled. He just kept floating serenely through his career like a swan, with all the hard work going unnoticed beneath the waterline. It's one thing to do that as a sportsman, like Roger Federer, for example. It's another thing to do it when you are openly courting the celebrity media, pushing endorsements and branded products, inviting the beast into your home. Perhaps there might have been slip-ups beneath the veneer, but we were never allowed to see them, and they never disturbed the relentless accumulation of trophies.

Beckham was not, by some distance, the greatest footballer ever to play for England. Nor was he the greatest English player of his generation. He was a man who, in spite of everything that life, the game and 21st-century culture had to throw at him, achieved everything that he could in his professional career.

In a way, that's almost more impressive than simply being good at football.