Benitez's only post-Chelsea option may be to leave UK
With all the attention focused on the departure of one Premier League manager Wednesday, it was hardly surprising that the future of another was largely ignored. Rafael Benitez has just three more matches before his marriage of inconvenience with Chelsea is formally dissolved, but where will his idiosyncratic career take him next?

-- Chelsea's lack of style
-- Benitez: Give Moyes time at United

It certainly won't keep him at Stamford Bridge. Even though the fans' animosity toward him has died down, it's still evident whenever the team's performance sags. This must be the easiest season that any Chelsea player has ever experienced. When things go wrong, it's never their fault. The defence can allow Emmanuel Adebayor to canter down the pitch and nonchalantly loft the ball into the top corner, Ramires can face plant in the penalty area when the goal is gaping -- but it's always, always, always Benitez who gets the blame.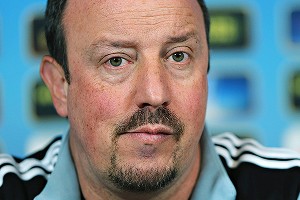 Ian Walton/Getty ImagesRafa Benitez's shaky relationship with the British press could be an obstacle to landing a significant Premier League job.
Benitez is not universally loved by the British press, either, something that was reinforced Wednesday night when two journalists pursued him with a line of inquiry so aggressive that they came close to openly questioning his competence.

The Spaniard defused a tense situation by wryly remarking that, "it was easy to spot the bulls from the fence," but he looked distinctly uncomfortable throughout the exchange.

In some respects, Benitez brings it upon himself. Point out that one of his tactical tweaks didn't work and he will respond by saying that it didn't work this time. Cast doubt on the abilities of one of his players and he will respond by reaffirming his faith in them. At no point will he ever accept the possibility that he might have gotten something wrong. The way that Benitez views football is that if the concept works in his head, then it should work in reality. If it does not, then the problem is with reality and not with his head.

This is all well and good, and indeed rather endearing, to a positive audience, but it's an open act of aggression to some journalists, primarily because one of the roles of journalists is to question everything. He has some allies in the fourth estate, but not many and it will cost him this summer. The press still shape public perception to a certain extent and their lack of support, allied to his failure to land a trophy of note since 2006, may push him down the pecking order for the big jobs in this country. You can imagine, for example, the horror of Arsenal fans if they were to be told that he would be replacing Arsene Wenger.

It all seems a little unfair. If you can ignore the booing and jeering, and Benitez claims that he can, this 'fat Spanish waiter' has performed as well as can be expected at Chelsea. He has an unbalanced and exhausted squad, he has no control over recruitment and he's working within a dysfunctional framework erected according to the whim of Roman Abramovich. With high expectations and low support, he's had to fight a battle on multiple fronts. He hasn't excelled himself by any means, too much silverware has slipped by for this appointment to be described as a success, but he has held the fort diligently and to the best of his abilities.

Chelsea looked distinctly leggy in the closing stages of their clash with Spurs, but for Benitez to have them in any kind of shape at all is a testament to his rotation policy, something else for which he is usually lambasted. You only need to look at the way Liverpool used to finish their seasons to see that he knows a little more about physical conditioning than people would have you believe.

We know that Benitez yearns to return to Anfield, but unless their American owners decide that what their troubled club really needs is a fourth managerial change in three years, that looks a forlorn dream. Not that we should rule it out, of course. Second-guessing FSG is like playing poker with a beginner: You think you know what they're doing, but you can't be entirely sure that they know what they're doing.

With that door closed and few clubs thought to be keen on his services, the only option for Benitez would be to leave the UK once again. There will be a vacancy at Real Madrid this summer and there is another likely at Schalke, but it all seems rather sad. He will, of course, never repeat the success of Sir Alex Ferguson wherever he goes, but wouldn't it be a shame if the Premier League was to lose two of its most interesting characters in the same month?