Chelsea would be wise to bring Jose Mourinho back
Jose Mourinho has finally admitted what we have long suspected. All he ever wanted was to be loved.

The Italians, apart from the ones who follow Internazionale, don't love him. The Spaniards, save for the lingering band of loyalists who don't yet feel that he has pushed his own agenda above that of Real Madrid, don't love him. And so he wants to return to a place where he is loved. Unlike Elvis Costello, he actually does want to go to Chelsea.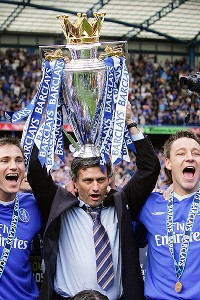 Adrian DennisAFP/Getty Images Jose Mourinho has made it clear that he wants to return to Chelsea, but he is not without his share of Stamford Bridge detractors.
But do Chelsea want him to come back? Certainly the majority of supporters are in favour, but when have they ever been consulted or considered on matters of recruitment? Their love did little to protect Roberto di Matteo last year. Indeed, it's worth noting that not all of the Chelsea supporters are as bewitched by Mourinho as you might think.

When he made a successful return to Stamford Bridge with Inter in 2010, one supporter near the press box stood up and hurled abuse at then-manager Carlo Ancelotti, howling that he wasn't fit to lead the club and that he should look alongside him if he wanted to know what a top manager looked like. He was quickly and emphatically put back in his place by fellow supporters who, and I paraphrase here for decency's sake, reminded him that his hero had not been entirely blameless for his own departure.

Most supporters will, of course, willingly brush over the infighting and discord that marked the end of Mourinho's reign. They're just sick of Rafa Benitez. They want to feel that they can back their team again without necessarily being seen to endorse a manager they despise. It remains to be seen if the board will be so forgiving. They will remember well the leaks that undermined their position late in his tenure. They will remember the scorn that Mourinho held for their opinions. He was brought to Chelsea with a reputation as a bright young manager, he left the club tagged as an uncontrollable monster. Some clubs would have put up with his behaviour. Chelsea, or more pertinently, Roman Abramovich, did not.

This week, Mourinho was attempting to mobilise the masses, making it abundantly clear that he wanted to return to Chelsea and forcing the board of directors into a position where they would have to buck public opinion if they wanted anyone else. But, as we've already established, public opinion means little here.

They have a certain way of doing things at Stamford Bridge. It's called the, "Do what I say and do not fail or I shall sack you," technique and it comes directly from their owner. Consciously or otherwise, the Russian likes to sit above feuding bases of power, rather than allowing one individual to challenge his influence. Mourinho will feel that he deserves absolute power. Abramovich will not be in a hurry to give it to him. To do so would mean the end of scout-turned-consigliere Michael Emenalo.

There is no reason why a director of football/head coach relationship can't work in the Premier League, but it will never succeed if the manager resents any outside interference. Last time, Mourinho went up against one director of football, Frank Arnesen, and then lost his job to his replacement, Avram Grant. This time, it is Emenalo who has the ear of Abramovich. If there is to be a reunion, the roles of the key protagonists will have to be clearly defined and agreed upon. But neither Abramovich nor Mourinho are known for their willingness to compromise.

There are other issues too. The squad has been put together with an eye on Barcelona, while Mourinho's ideology is more in keeping with the physicality and discipline practised by Bayern Munich. Mourinho would also have to deal with a few familiar faces in the dressing room, including some who failed to support him as he battled the board in 2007.

It's not necessarily true that a manager should never go back. Bayern Munich boss Jupp Heynckes has offered rather compelling evidence of that in the last six months. But it is certainly true that the definition of insanity is doing the same thing over and over again and expecting different results.

With compromise and communication, bringing Mourinho back to Chelsea could be the best decision that Abramovich has made since he hired him in the first place. Without it, this is an accident waiting to happen.

The only thing we can be sure of is, as always with Mourinho, the future will be anything but straightforward.