Technique and possession not everything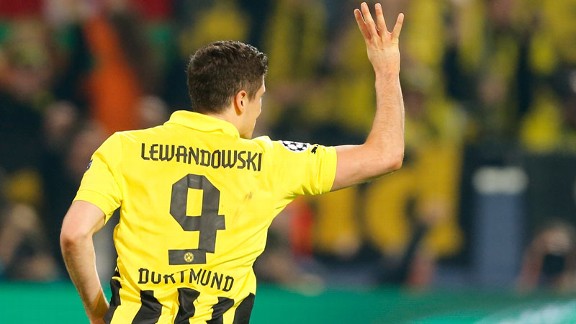 AssociatedThe four-goal haul from a bustling Lewandowski was stunning
The age of the diminutive attacking midfielder is over! All hail the bulky center forward!

OK, perhaps that's something of an overreaction. Barcelona will be back, reinforced, reinvigorated and hopefully with a restored manager who only needs to worry about football. Real Madrid will spend, both on players and a new coach, in yet another bid to reclaim their place as kings of Europe.

Nevertheless, a lesson was handed down to the Spanish clubs this week; technique is not everything. Possession is not everything. Physicality still has a part to play. Robert Lewandowski epitomized that lesson.

- Cox: 'Super Eights' define, decide UCL semis
- Delaney: Dortmund set the Real standard
- Uersfeld: Dortmund's eternal moment
- Train: Real barely have a leg to stand on

Bayern Munich and Borussia Dortmund deserve equal credit for their feats this week, but there is something about Lewandowski's personal success that is profoundly pleasing. This was a man who was once told he was barely good enough for the third flight of Polish football, a man who would have signed for Blackburn Rovers had it not been for a timely volcanic ash cloud. And now he is the hottest property in Europe.

All of which makes him sound like a hulking space freighter of a forward, a snorting riposte to a YouTube compilation of stepovers. Clearly, this isn't the case. Lewandowski has obvious attributes, though no one would ever describe those as "god-given." This is not a precocious young talent coming to fruition; this is the product of years of hard work.

Lewandowski wasn't even the first choice for Borussia Dortmund when he arrived at the club in 2010. He had to battle Lucas Barrios, believed at the time to be an untouchable name on the team sheet. Poor Barrios is no longer with the club, he's merely a speck in Lewandowski's rearview mirror.

Lewandowski can score from anywhere. He is nerveless in a one-on-one situation; he has feet quick enough to carve out opportunities in a crowd; he has a shot so powerful that it could lay out Robin van Persie; and he has the presence and aerial ability to convert just about anything that is kicked at his head.

But he offers more than just goals. He has the touch of a man who wears moccasins and some kind of organically built-in HUD system that allows him to plot the course of the men around him. A long forward pass isn't a hopeful punt when it's aimed at him, it's the catalyst for a new attacking move. He takes a touch to control, and then, without looking up, a touch to divert the ball into the path of one of his fleet-footed teammates. He is not just a target man; he is a pivot for every attacking move.

That's why Manchester United is desperate to lure him to England, and it's also why Bayern Munich has been making a concerted effort to snag him.

Their first-choice striker, Mario Mandzukic, is similar to Lewandowski in that he works as hard to create chances as he does to score on them, but he is a markedly less artful player. Mario Gomez has an exceptional goal-scoring record, but offers less to the greater cause. In his 71 minutes spearheading a dominant Bayern Munich on Tuesday, Gomez completed just four out of five passes, only one of which was in the final third. It should be noted that he also worked tirelessly to close down Sergio Busquets, but you can certainly see why envious glances have been cast at the Westfalenstadion.

The greatest thing about Lewandowski and his success with Borussia Dortmund this week is that it affirms football is not as simple as some would have you believe. It is not a console game. You cannot simply acquire the players with the highest star ratings and then stroll to success. It is a blend of tactics, technique, application, mental strength and, of course, good fortune. That's why it's such a compelling sport. A man like him can be the difference even against one of the most expensively assembled football teams of all time.

And that's reason for everyone to be cheerful, isn't it? Though naturally, I'll understand if Real Madrid's fans choose not to smile right now ...