Rooney, United could each benefit by parting ways
At the sight of the number '10' on the electronic board, the West Ham fans roared with delight.

Wayne Rooney, sweating and puffing after 70 minutes of jogging around and messing things up, stared at the board contemptuously and then trudged slowly off the pitch. Around him, Upton Park erupted with raucous songs of what we shall diplomatically call a sexual nature. They like little more than gleefully monstering Manchester United players in East London. They've been doing it ever since Paul Ince unwisely chose to wear a red shirt while he was still being paid to wear a claret one. Rooney, with his red-faced incompetence, did not disappoint them.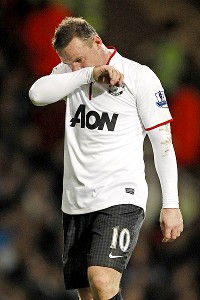 Ian Kington/Getty ImagesWayne Rooney's listless play against West Ham suggests it's time to pack his backs at Old Trafford.
This might actually have been Rooney's worst performance for United. He has been this bad for England on numerous occasions, but rarely has he offered up such a desperate shift for Sir Alex Ferguson. His first touch was so bad that he may as well have been playing in clogs. His passing was so awry at times that he didn't seem to know which colour shirt his teammates were wearing. In the first half, he spied goal but thrashed at the ball from outside the area, dragging it horribly wide of the far post. All night long, save for one delicious lofted pass shortly after the break, he angrily hacked around the pitch like a golfer with someone else's clubs.

This has been a strange week for Rooney. On Monday, former advisor to PSG Michel Moulin announced on live French television that a deal had been struck with Manchester United and that the Englishman would be lining up with Zlatan Ibrahimovic and Thiago Silva next season. There was, however, a rather serious caveat here. Moulin hadn't worked for PSG since 2008. In 2012, the Qatari Investment Authority took full control of the club, clearing the decks and appointing Leonardo as Director of Football.

Privately, those in the know have suggested that Moulin's connections with the new administration are not as strong as he has implied. Indeed, and this may be entirely unconnected to his revelation, he now runs a football website which was last seen attracting an enormous amount of hits for a story about Rooney joining PSG. Moulin's claim was ignored by United and emphatically dismissed by Leonardo.

This isn't to say that Rooney will not go there. Regardless of his hapless shuffling at Upton Park, he would fit with the French club's policy of perpetual regeneration, constantly spending on high profile players to reaffirm their place at the top table of European football. Yes, he could easily join PSG this summer. It's just that on the evidence of Wednesday night, he'd be lucky to get a game with PSV.

In 2010, Rooney famously put in a transfer request at Manchester United, stating his discontent that the squad would not be strengthened to his liking, effectively suggesting that he was too good for them. He later apologised and reaffirmed his devotion to the cause. Now, the boot is very much on the other foot.

Six weeks ago, he was dropped by Ferguson for the crucial Champions League clash with Real Madrid. The move sparked immediate and widespread speculation that Rooney was heading for the exit door, speculation that was laughed off by Ferguson shortly afterwards.

This could have just been a bad day at the office, and given his encouraging performance in midfield against Stoke, perhaps that was the case. He is, after all, an exceptional footballer when he is in form. But there was something about Rooney's demeanour that suggested otherwise here. He played like a man who knows that it's all coming to an end. He played like a man without any clear idea of his role in the wider plan. He was short-tempered, poorly positioned, lead-footed and he looked exhausted.

As ESPN columnist Michael Cox put it on Twitter, "the gap between Rooney at his best and Rooney at his worst must be larger than any other player around."

Maybe a move would be the best solution for all parties. It might bump him out of his funk and force him to double his efforts. Perhaps a new voice could motivate him better.

In response to Moulin's PSG claims, new stories appeared in the UK press suggesting that Rooney was actually rather keen to extend his contract at Old Trafford. Maybe I'm not the right person to offer advice, but today probably isn't the best day for him to knock on Ferguson 's door.