Is Barcelona little more than Messi?
Barcelona are through to the semifinals of the Champions League, but that will be as far as they go if they repeat the performance they offered up against Paris Saint-Germain on Wednesday night. Without Lionel Messi, the Catalans had all the cutting edge of a large pudding spoon. Manager Tito Vilanova has much to ponder.

It is tempting to conclude that Barcelona without Messi are like the Gotham City Police Department without Batman; a barely functional organization that prevails only through the efforts of a lone superhero. But this cannot be the case. For one thing, they had little trouble in dismantling Real Mallorca 5-0 last weekend without Messi -- hardly the same caliber of opponent, but a fine result nevertheless. For another thing, well, just look at the team sheet.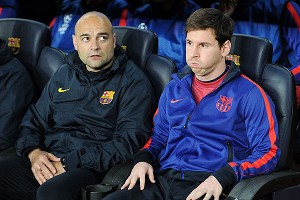 LLUIS GENE/AFP/Getty ImagesBarcelona had to rely on a crocked Messi coming off the bench to save them. That is a big problem that should worry the Catalan side.
Men like Andres Iniesta, Xavi, Sergio Busquets and David Villa are no mugs. They have European Championships. They have won a World Cup. They should not have been made to look so ordinary by Carlo Ancelotti's side. To say that these men are nothing without Messi is too simplistic. Something more complicated is going on here.

Before Messi's arrival in the match, Barcelona were abject. They couldn't even muster a single shot on target. PSG were too strong for them physically. Ancelotti's men worked to close down Xavi and Iniesta, squeezing them and denying them their angles. Xavi completed every single one of his passes, but none of them led to a clear-cut chance. The defense, something of an afterthought at the best of times for this club, was pushed so high that PSG had acres of space to scamper into with impunity. If it's possible to read a game, this one read like a death notice.

And then Messi was trundled out onto the pitch.

Messi was, of course, the creative force behind Pedro's crucial equalizer. Firing on a single cylinder and operating at about 60 percent of his usual cut-and-thrust, he still had enough about him to meep-meep through the midfield and deftly flick the ball into the danger zone. But he brought little else to the party. He was like a wounded king holding himself upright on his horse, his gashes carefully dressed and concealed just long enough for his very presence to rouse the troops. His appearance was a ploy, an act of subterfuge designed to fool his own team.

What should terrify Vilanova is that it worked.

"Messi gives us a different air," Dani Alves said afterward. "We know that and so do the opposition. I prefer a crocked Messi to anyone else fully fit."

Alves was one of the worst offenders of the night, delivering his crosses like a small boy absently lobbing rocks into the ocean. He is 28, has 62 caps for Brazil, has won two Champions League titles, three La Liga titles, three Copa del Reys and two UEFA Cups. How can a man this experienced be so reliant on the presence of one teammate? How is it that he wasn't alone in this?

- Delaney: Messi to the rescue
- Barcelona blog
- Report: Messi's injury no worse

That goal aside, Messi was like a placebo, a non-functioning pill dispensed to con a patient into recovery. He became a focal point for the attack, radiating confidence in spite of his limitations, a Plan A to stick on a blank clipboard. For any team, this should be cause for concern, but for one of the biggest clubs in the world, it is a major problem. Even without Messi, Barcelona should be capable of at least holding PSG to a draw in their own stadium.

What will they do if Messi is injured again? What happens if he breaks his leg? It's not simply a case of having a replacement game plan (that would certainly help); it's knowing that the team can cope mentally with his absence. That's the challenge for Vilanova now, as if the poor man hasn't had a tough enough year already.

Barcelona are clearly not a one-man team. They are crammed with stars in every department and linked up to a feed of young talent from their own academy. But any more performances like this and the shine on their reputation around the world will start to fade. Any more performances like this and perhaps people will start to wonder if they're really "more than a club," or if they're actually "little more than Messi."