Are the Gunners brave enough to save their season?
If Arsenal are to mount yet another late charge for a top-four finish, they must win on Saturday. Last season, the Gunners won nine out of 10 Premier League games from Feb. 4 to April 11 to reel in Tottenham Hotspur and snatch third place. They've left it late this year, but given that Tottenham's wheels have again begun to groan and wobble under pressure, there's every chance that Arsene Wenger can pull off another Champions League smash and grab.

Reading will be an unpredictable foe, drained by six successive defeats in all competitions, but boosted by the arrival of new manager Nigel Adkins. On the face of it, this is a like-for-like change in the dugout, one nice chap for another, but the former Southampton boss will be a fresh voice and the players will be anxious to listen. With a reported £30 million gift voucher from the chairman to rebuild the club over the summer regardless of its fate, the existing squad are now fighting to stay in a job. Very few of them can count on being rescued by a Premier League side.

- Mangan: Down to business
- Do the Gunners need Walcott?

Arsenal must be careful then, as this will no longer be the easy three points it had appeared. But they should not be so cautious that they forget their place. They are playing for Europe and they need to build up momentum for the run-in. This is three points they cannot afford to spurn.

It really is a shame that Arsenal are no longer title contenders because that run-in is absolutely glorious. With the possible exception of the visit of Manchester United on April 28, it's as smooth as Justin Bieber's chin. In fact, given that United may already be champions by then, it could be even better than it looks. There are three golden games against teams with little to play for (Norwich, Fulham, Newcastle), two against Europa League challengers (West Bromwich Albion, Everton) and three against relegation battlers (Reading, QPR, Wigan). Compare this with Tottenham, who have to play Chelsea and Manchester City while challenging for the Europa League. Compare it with troubled Chelsea, who have two cups to compete for as well as league games against Man United, Liverpool and Spurs. Third place really is there for Arsenal's taking.

All of which is rather surprising given the way they have lurched through the season from one setback to another, always seeming to recover before stumbling back to the floor. This has been the most arduous season that Wenger has experienced since arriving in North London back in 1996. In every position, the Gunners have been found wanting and, in contrast to the days when they had a team that all of Europe envied, true superstars are thin on the ground.

The dissenting fans who continue to shout "Spend some @#$@# money!" at Wenger don't seem to realise that he @#$@#$ did spend some money in the summer. Over £40 million was splashed out on Santi Cazorla, Lukas Podolski and Olivier Giroud last summer, with another £10 million on Nacho Monreal in January. While Arsenal continue to resist the temptation to blow their wage restrictions out of the water, and quite right too, this is as high a shelf as they can shop from.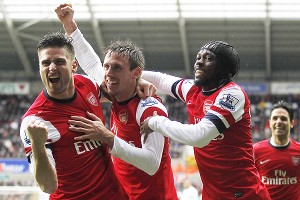 Ian Kington/AFP/Getty ImagesArsenal must take advantage of their easy run-in.
But the problem isn't simply financial. After all, there are teams beneath them who have bought far better for less. There's no excuse for the kind of mental lapses that have plagued this team of late. Too often, Wenger has sat in front of journalists and bemoaned timidity in the opening exchanges. Too often, catastrophic individual errors have undermined the good work elsewhere. The only time that Arsenal seem to bare their teeth and fly into the fray is when the cause is already lost. That's not good enough.

Make no mistake, Wenger should be held accountable for this. It is his team, and nothing he has achieved in the past should save him if Arsenal's snout is forced out of UEFA's cash trough. But this is not all his fault. It is long past time that these players, who on a technical level are not wildly inferior to players in the teams above them, began to perform. The likes of Theo Walcott, Wojciech Szczesny, Aaron Ramsey and Alex Oxlade-Chamberlain have long been spoken of as future stars. Now it's time for them to prove that the hype has not been misplaced.

Arsenal have a real chance to salvage their season now. The only question is whether they are brave enough to snatch it and strong enough not to let go.