You can't expect Luis Suarez to stay at Liverpool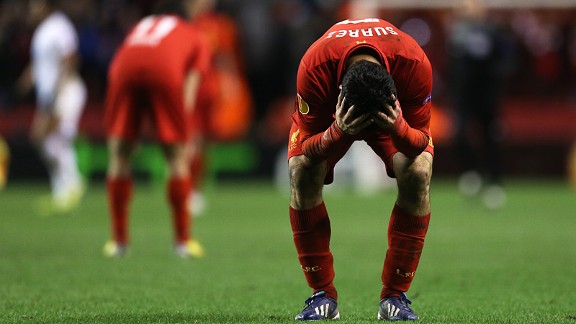 APLuis Suarez will probably be off if Liverpool don't grab a UCL place
There will be heartache this summer. Free of interfering press officers and perhaps a little too relaxed in his home country, Liverpool's star striker Luis Suarez has admitted to a journalist that he would consider an offer from a club with "more prospects".

- Suarez hints at Liverpool exit
- Ayre plays down Suarez quit reports

Managing director Ian Ayre was immediately dispatched to the BBC studios to insist that it was all a misunderstanding and that Suarez's words had been lost in translation. Well, it's not the first time they've used that argument ...

Naturally, many Liverpool fans have rushed to suggest that Suarez is different, that he 'gets' the club, he's happy and that he absolutely wouldn't leave after everything that happened, but that's not really how football works now. Suarez showed rather more loyalty than most expected when he signed a new deal last season. For him to stick around for another campaign outside of the Champions League would be an unprecedented display of loyalty quite out of keeping with the modern game.

In truth, when you strip away the emotion that his comments have generated, there is nothing even remotely surprising about his words, save for the way he described Liverpool as 'elite', which is very generous given their past three, and probably four, league finishes.

The irony is that last season, with Suarez's off-field distractions contributing to a relatively poor personal campaign, Liverpool fans were vociferously, and quite rightly, defending their player against suggestions that he wasn't actually that good. Well, they'll be reassured to know that no one is in any doubt of Suarez's talents now. The bad news is that this means he's almost certainly off this summer.

The facts, sadly, are very simple. Suarez is a world-famous player at the top of his game. Liverpool are a world-famous club consistently finishing at a lower level in the league than at any time since Bill Shankly hauled them up to the top flight in 1962.

Suarez has scored 29 goals in 40 games, with seven in the last five matches alone. Liverpool haven't played a Champions League game or finished in the top five since 2009.

Frankly, it would be more surprising if Suarez actually stayed for another season than it would be to see him leave for Bayern Munich, Real Madrid, PSG or any of Europe's other seriously wealthy powerhouses.

But that doesn't necessarily mean that a sale would be a disaster for Liverpool. Suarez would fetch a fee of around £35-40 million and his departure would dramatically reduce the wage bill. Given that Liverpool have announced pre-tax losses of £40.5 million and £49.3 million in the last two years, a sudden influx of cash can hardly be seen as a bad thing.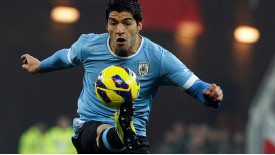 APLiverpool's Luis Suarez may have let his guard down while back home in Uruguay
Of course, you cannot play a big bag of money as a centre forward, even if there is a compelling argument that it would score more goals than Fernando Torres. Pressure will be on Brendan Rodgers to spend wisely whatever funds are made available, but recent evidence is promising.

Daniel Sturridge has the natural talent to play at the highest level, even if there's been little at his previous clubs to suggest that he has the mentality. Under Rodgers, however, he seems more settled and composed than he has elsewhere. Philippe Coutinho looks like a shrewd signing as well, provided that he can build on a good start and perhaps put a bit of weight on.

This is how Liverpool must do their business now: shopping for bargains instead of plucking items from the top shelf. This is the reality of their new circumstances, the cost of three years of ruinous mismanagement under Tom Hicks and George Gillett. If Rodgers is granted more patience than his two predecessors, he may be able to slowly restore Liverpool to their former heights, buying well and coaching smartly. In the absence of a sugar daddy, this is the only sensible course of action.

If Suarez wants to explore other options, then Liverpool may as well take a leaf from Daniel Levy's book and squeeze out the maximum price, reinvesting the fee elsewhere in the squad. There's no point keeping a player who wants to leave.

If Suarez is to leave, he should go with the best wishes of their supporters. He might not have been popular with anyone else, but no one can ever accuse him of giving less than his all in every game he played. But those supporters shouldn't despair. They have seen better players than him leave in the past and they have still survived. Managed sensibly, Liverpool will eventually return. It just won't happen quickly. The damage of the last six years was too severe for that to ever be the case.