Forget Rafa. Why not appoint John Terry as player/manager?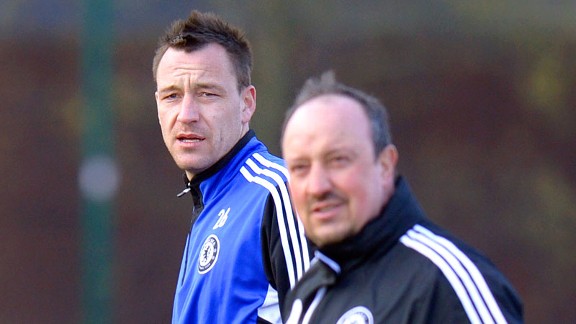 AP PhotoCan John Terry save Chelsea as player/manager? It's not as farfetched as you might think.
Rafa Benitez is finished. He knows it, Roman Abramovich knows it and the players know it. While Chelsea insisted on Thursday morning that it was "business as usual" at their Cobham training ground, even the Blues aren't so chaotic a club that the past 24 hours can be considered normal.

There seems little point in retaining Benitez now. If he thought that the fans didn't like him before, just wait until they catch up with him on Saturday. It will be ugly. Launching an attack on the supporters is rarely a wise idea, but when nearly 2,000 of them have just jumped on buses to begin a 250-mile journey home from Teeside on a cold weeknight, you have to question your timing. Not that it matters now, of course. Benitez was perfectly entitled to complain, just as the fans were perfectly entitled to oppose his appointment. The blame lies with owner Abramovich and his lieutenants. It would be in everyone's interests if this shambolic union was ended as swiftly as possible.

But what do Chelsea do then?

- Video: Rafa's rant
- Delaney: Strange timing
- "Business as Usual"
- Video: Marcotti's take

They still have to secure a Champions League place and there's still the FA Cup. But where on earth are they going to find a manager crazy enough to sign up for three months in the madhouse? Well ... how about in the back four? How about John Terry?

OK, I'm going to give you a moment to get the giggles out of your system. Finished? Good. It's not quite as daft an idea as you might think.

For starters, it would instantly remove the key problem of "winning over the dressing room." He is, after all, the only possible candidate who wouldn't ever have to face a disgruntled John Terry. While not as universally popular within the club as he is often made out to be, Terry is at least universally respected as a footballer. He wouldn't have too many problems unifying the squad.

There would be no question of the fans booing him, either. If they didn't turn on him for that extended period of radio silence that seemed to invite a bid from Manchester City in 2009, the alleged affair with the mother of a teammate's child or the Anton Ferdinand racial abuse scandal, then they're unlikely to hound him out for a disappointing goal-less draw away at Southampton.

Although Terry doesn't yet have the necessary coaching qualifications, he has already begun the process of earning them. When Middlesbrough appointed Gareth Southgate as a replacement for Steve McClaren in 2006, they had a similar problem, but short-term "special dispensation" was granted, then extended by the Premier League. Though officials were at pains to stress that each case is treated individually and that the decision did not constitute a precedent, Southgate was allowed to continue in the role, as it was accepted that his playing career had not granted him the time to finish his courses.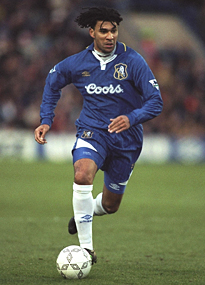 GettyImagesRuud Gullit during his days as player/manager of Chelsea.
Chelsea used to love their player-managers. Glenn Hoddle (1993-96), Ruud Gullit (1996-98) and Gianluca Vialli (1998-2000) all happily named themselves in their own starting lineups and all with a certain amount of success. In many ways, it makes even more sense these days.

The role of a manager is now far beyond the powers of one man, unless it's an extraordinary man like Sir Alex Ferguson. Chelsea seem reluctant to devolve that much power to an individual anyway, which is why Jose Mourinho is unlikely to ever return. Abramovich has his own scout, Michael Emenalo. He runs the long-term transfer strategy and there are dozens of minions scuttling around Cobham with important-looking pieces of paper. Terry could appoint an experienced assistant, a good coaching team and then act in something of an executive role, delegating all but the most essential of tasks.

The final benefit, for those of a conspiratorial bent, is that even if Terry's appointment fails in the short term, it will succeed in the long term. For years, Newcastle managers were forced to work in the shadow of Alan Shearer, knowing that every time they lost a couple of matches, his name would be linked to the position. Eventually, Mike Ashley cracked and gave him the job in 2009. He won one game in eight, Newcastle were relegated and Shearer was let go. No-one has worked under that shadow since.

If Terry is appointed and Chelsea miss out on the Champions League, his successors will have one thing less to worry about. If he succeeds, then Chelsea salvage their season and they can decide how to move forward from a position of strength in the summer. Either way, giving Terry three months in the dugout can't be any worse than allowing Benitez to defiantly stride towards the scaffold like a man with nothing to lose. Men like that are dangerous.

Iain Macintosh is the UK Football Correspondent for The New Paper in Singapore, writer for ESPN and the co-author of "Football Manager Stole My Life" from @backpagepress. You can follow him on Twitter at @iainmacintosh.