Bale 'reigning' on AVB's parade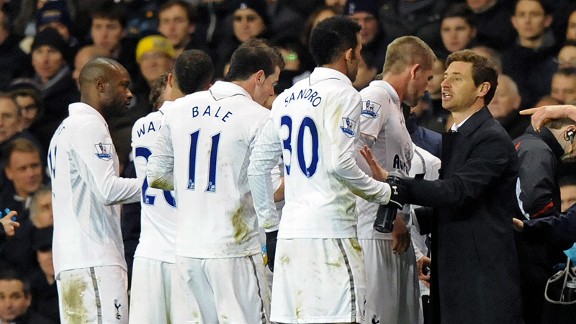 Olly Greenwood/AFP/Getty ImagesAndre Villas-Boas has quietly worked wonders at Tottenham.
It's entirely understandable that you cannot read a story about Tottenham Hotspur that doesn't focus on the form of Gareth Bale, but it is also rather unfortunate. The phenomenal performances of the Welshman have rather obscured the sterling work of manager Andre Villas-Boas.

Still tarnished by failure at Stamford Bridge, this is a man who had to suffer the indignity of "Three Games To Save His Job!" headlines -- after just three games on the job. Five months in, he's taken Tottenham to a strong position in the battle for a Champions League place, while balancing domestic duties with a more respectful stance toward the Europa League. It's fair to say that his position is no longer in any doubt.

There will be a temptation to put Tottenham's form down primarily to Bale's excellence. Bale has scored in each of Spurs' past four games, hitting the target twice in the past two matches. For club and country, in all competitions, he's scored 21 times. That would be a decent tally for a striker at the end of the season, let alone for a winger in February.

There can be no question that Bale is in magnificent shape, nor can we pour scorn on suggestions that he has taken his place just behind Lionel Messi and Cristiano Ronaldo as one of the world's most effective footballers. But he is only one man, and he isn't doing this alone.

Tottenham have been beaten just twice in 18 games in all competitions because the whole team is performing at a consistently high level. This is not simply down to Bale; this is the work of Villas-Boas and energetic assistant Stefan Freund. The German was appointed in the summer, reportedly because Villas-Boas wanted "club knowledge." In reality, he provides a perfect contrast.

While the manager sits calmly in the dugout, scratching out notes or micro-managing the movement of his back four, Freund is up and down, pacing, barking and shouting. But this isn't just a simple loud man/quiet man partnership. Freund is also brave enough and smart enough to offer valid opposing views to his manager, rather than simply agreeing with him.

Villas-Boas has shown far more tactical versatility in his time at Tottenham than he ever did at Chelsea, seamless switching from 4-2-3-1 to 4-4-2, learning from the poor early results that threatened his tenure. In short, he's now wise enough to listen to those around him.

Villas-Boas was also wise enough to sign Hugo Lloris, one of the best goalkeepers in Europe, but he was shrewd enough to not throw him straight into the team. Brad Friedel -- popular, intelligent and influential -- had done nothing wrong. The transition had to be gradual. Criticism rained on the manager as he risked alienating Lloris, but he rode out the storm.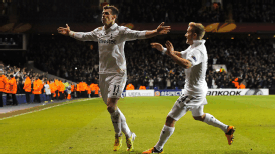 GettyImagesGareth Bale: The face of the Spurs' success
Defensively, he has proved flexible, too. Michael Dawson seemed to be on his way out, but has now proved himself capable of playing in Tottenham's high back line. Jan Vertonghen, another excellent signing, has moved between the center and the left of the defense without issue. The young fullbacks Kyle Naughton and Kyle Walker have adjusted to the ambitious deployment that sometimes can threaten to leave Spurs vulnerable.

In the middle, there are still a few issues. Scott Parker appears to be playing a role beyond his limitations, attempting to move forward with the ball when it's best for all concerned if he stays back, but then again, Spurs are adjusting to life without Luka Modric, who was integral to everything they did. The Croatian is not the caliber of player who can be replaced easily.

Jermain Defoe had seemed to have outlived his usefulness at White Hart Lane last season, but under Villas-Boas he's been playing some of the best football of his career. Once a rather one-dimensional player, he seems more vibrant and cunning now. He peels away from defenders, luring them out, rather than just hanging on their shoulder and waiting. Still injured, he is much missed.

Emmanuel Adebayor remains unchanged, the kind of player who performs far better when contract negotiations are ongoing, but he does at least offer a different option. Even Clint Dempsey, whose impact has been a little disappointing, leads the line with admirable determination and pluck. You can certainly find areas to criticise Tottenham's play, but it's very hard to knock their work-rate.

It makes sense that Bale is hogging the headlines, but it is Villas-Boas and his team who deserve the credit. Against all odds and expectations and in the face of some unsympathetic coverage, they have visibly improved Spurs without the need of a transitional season.

Perhaps it's time that we, like Villas-Boas, put the Chelsea episode behind us.

Iain Macintosh is the UK Football Correspondent for The New Paper in Singapore, writer for ESPN and the co-author of "Football Manager Stole My Life" from @backpagepress. You can follow him on Twitter at @iainmacintosh.