By now, Gervinho is back at the Emirates after 2013 Africa Cup of Nations favorites Cote d'Ivoire fell in the quarterfinals to a Nigeria team that probably arrived in South Africa with more hope than expectation.

It wasn't supposed to end like this. Not again. After all, it was only a year ago when an emotionally ravaged Gervinho returned to Arsenal after missing a penalty kick in the Cup of Nations final against eventual champion Zambia, a team that on paper had no business making it to the final. Gervinho was reduced to tears after that defeat and was again devastated as the Nigerians celebrated their unexpected victory last weekend in Rustenburg.

Perhaps the Cup of Nations isn't the healthiest activity for Gervinho, a sentiment probably shared by the legions of Arsenal fans who already see the tournament as a frivolous "Thunderdome"-like competition with the sole purpose of damaging club assets and destroying the old world order. For these supporters, the equation is simple: Gervinho leaves for national team duty; Gervinho returns in need of emotional repair. But there is a more notable takeaway from the Cup of Nations, beyond the tears and emotional distress: Arsenal are clearly not getting the best out of Gervinho, not by a long shot. And it may not be the Ivorian's fault.

Limbert: Wenger to rotate en route to Wembley?
Marcotti: Can Nigeria build off AFCON triumph?
Football Africa: All AFCON coverage

Arsenal fans may not have recognized the Gervinho at the Africa Cup of Nations beyond the iconic braids and recognizable gait. Of course, aspects of his play were recognizable -- he still looks to have unlimited reserves of energy; his headband and braids still miraculously stay in place when he gets fouled; and he still isn't a goalkeeper -- but many surely would find the total package Gervinho displayed in South Africa perplexing.

In a Cote d'Ivoire shirt, Gervinho craves involvement. He's in constant motion, darting about with the energy of a player Arsenal fans would support if he played as such in the Prem. When he gets his foot on the ball he holds up play, looks to combine with Didier Drogba or the towering Lacina Traore and punishes the back of the net with a crisp, finishing touch worthy of being memorialized in "Mortal Kombat." His goal against Tunisia in the group stage -- a smooth, one-time finish from a give-and-go in the box with Traore -- demonstrated the ruthless confidence of a player who regularly scores goals.

Quite simply, Gervinho in a Cote d'Ivoire jersey is more competent than the Arsenal version because he is more confident. He's more confident because Ivorian coach Sabri Lamouchi and his teammates trust him not only to contribute creatively but also to be a spark that ignites the Elephants' creative juices. In short, Gervinho is more of a necessity to his national team than the luxury or role player he becomes at the Emirates.

Lamouchi seemed to have solved that problem by outsourcing a significant chunk of Cote d'Ivoire's playmaking responsibilities to the umbrella of fleet-footed attacking players who surround the physically imposing Ivorian midfield core. And Gervinho has been a primary beneficiary of this distribution, thriving under the additional pressure.

Under Lamouchi, the minute the Ivorians gear up to attack, Gervinho's positional responsibilities fly out the window. No longer is he a conventional winger tasked with hugging the sideline, latching on to hopeful long balls or timing runs behind unsuspecting or immobile defenders. Instead, Gervinho fluidly begins to roam, meandering from left to right and not hesitating to tuck below the target man when it suits him. He also does all those things that a conventional winger is supposed to do. With a license to move freely and create as he sees fit, perhaps it makes perfect sense that Gervinho wears the No. 10 for Les Elephants.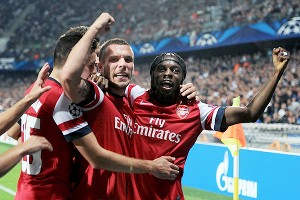 no_source / Stuart MacFarlane/Arsenal FC/Getty ImagesGervinho has experienced a mixed career at Arsenal, likely due to his vastly different role and the expectations placed on him at the Emirates.

But none of this sheds light on why Gervinho, who also plays as a winger in England when not deployed as a central striker, seems to lack the same dynamism at Arsenal that he displays when in Ivorian colors.

Many Gunners fans may believe the answer lies in the nebulous cliche by which heart, desire and focus are the cure for underperformance. But underperformance also can be a function of coaches failing to put players in a position to fully realize their strengths. Just ask Aaron Ramsey or Andrei Arshavin, two players who have suffered from misinterpretation as a result of being played out of position by Arsene Wenger.

In sharp contrast to how Gervinho is used by Lamouchi, Wenger's vision of using the Ivorian properly seems to be inspired by strict positioning and function, which is ironic, given Wenger's reputation for liberating the game from the grasp of the unimaginative.

Under Wenger, by the time Gervinho receives the ball, he rarely has been involved in the build-up play. He has become a lonely, isolated figure, only meant to join in at the end of the creative process (which is also the job description of Gunnersaurus, the Arsenal mascot). It's a naïve use of the tricky speedster when you have watched him with Cote d'Ivoire or even his former club, Lille, fully aware that involvement magnifies his confidence -- and therefore, utility -- exponentially.

The Africa Cup of Nations version of Gervinho is a reminder that there was a perfectly sound reason for Wenger to be so satisfied with his Ivorian signing. Fans wondering which Gervinho is returning to the Emirates might be surprised to learn that maybe there is only one Gervinho: the dynamic, mobile, creative version who loves to be involved and can be counted on to produce.

Any differences in perception may just be down to how Wenger uses the Ivorian. Remember that the next time the sharpened knives engraved with Gervinho's name are brandished after a frustrating performance in Gunners colors, because as it turns out, this proverbial set of knives may be engraved with the wrong name.

Miriti Murungi is into the third decade of a football addiction that has fueled crazed scrambles to find Arsenal games on five continents. He is an attorney and the co-founder of NutmegRadio.com. Miriti can be found on Twitter @NutmegRadio.