Hipster sides fit to be tied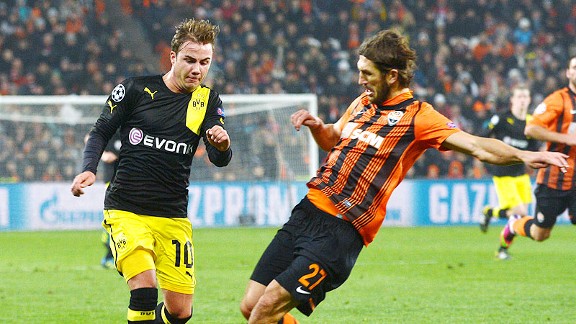 SERGEI SUPINSKY/AFP/Getty ImagesBorussia Dortmund's Mario Gotze, left, fights for a ball with Dmytro Chygrynskiy of Shakhtar Donetsk during Champions League play.
Perhaps it was for the best that the Champions League tie between Shakhtar Donetsk and Borussia Dortmund ended in deadlock. The Hipster Derby was never supposed to be about winning. Hipsters know that winning is only a small part of football. Looking good is what really counts.

To be a football hipster, it's crucial to stay ahead of the trend. In a way, this fixture may have marked the end of Borussia Dortmund's status as a cult favourite. Led by Jurgen Klopp, a lower-league player who fought his way up the ranks, they have three key attributes. They have a large natural support, they play nice football and they boast extremely talented yet relatively unknown players.

But like Ned's Atomic Dustbin's appearance on Top of the Pops in 1991, this Champions League run may be the moment when the hipsters feel the tug of the mainstream, shudder and strike out for less tumultuous waters. Besides, everyone knows who Mario Gotze is now. It's no fun anymore. As we speak, hipsters around the world are seeking out new objects of affection. Word to the wise: Nuremburg's Hiroshi Kiyotake is where it's at.

Shakhtar Donetsk have also captured the hearts of the hipsters, though they have a less romantic background. Their team and that wonderful Donbass Arena were funded straight out of the pocket of Rinat Akhmetov, once named Europe's richest man. He rose to power after a bomb killed his predecessor, Oleksandr Bragin. It might have claimed Akhmetov's life too, had he not be stuck in traffic.

While Shakhtar may be dark horses in Europe, they're the out-and-out frontrunners in Ukrainian football. This season, they went on an extraordinary 15-match run of victories and currently sit 13 points clear of Dnipro in the middle of the winter break. Under the aegis of Mircea Lucescu, an unforgiving lump of Eastern European steel has been layered in Brazilian silk, or at least it was until hotshot Armenian striker Henrikh Mkhitaryan appeared and ruined every writer's lazy metaphor.

The fact that these two cult collectives met on the same night as Manchester United and Real Madrid only intensified the hipster's excitement. This was like catching 'Camera Obscura' at the Bull & Gate while Coldplay were playing for free in Hyde Park. "Pah!" the hipster would say, almost certainly spitting out a particularly rare brand of coffee with indignation. "Imagine watching Manchester United and Real Madrid when two of the finest teams in Europe are playing on the other channel!"

So what did the hipsters get for their loyalty? Well, not what they might have expected. This was a vibrant enough tie, with two goals apiece leaving it nicely poised for the second leg, but stylistically, there was little to bang on about. Curiously, it was a very English affair, all elbows and shoulder barges. Shakhtar took the lead through a Darijo Srna free-kick that looked exquisite until you noticed that goalkeeper Roman Wiedenfeller appeared to be tethered to the ground like a barrage balloon. Dortmund responded in unorthodox style when Robert Lewandowski airkicked Gotze's cross, inadvertently took two defenders out of the game with his clumsiness and then recovered to equalise from close range.

Shakhtar repeatedly opted for the long ball down the middle, a wise choice given Mats Hummel's less-than-convincing display at the back. Midway through the second half, with the score at 1-1, Dmytro Chygrynskiy hoofed the ball into the night sky. Sixty yards downfield, Hummels trotted back and simply looked at it as it went past, like a sad dog at the window watching an ice cream van trundle by without stopping. Never one to waste an opportunity, Douglas Costa brought the ball under control and smashed it home. Hummels made amends with his equaliser, powering a header in from a corner, something that Shakhtar really should have been ready for given that he did the exact same thing in the first half, but hit the bar. Wizened old Lucescu called his team 'childlike.' Dortmund boss described Hummels as, "not uninvolved," in Costa's goal. This was not quite the exquisitely paced, immaculately sculpted football we were expecting.

The draw keeps hope for both teams alive. It also maintains the impossible hipster dream that somehow both teams could progress to the next round. But after this tie ends, mark my words, the hipsters will move on. It's all too big now. It's too well known. Now if you'll excuse me, I need to find an online stream for the next S.Z. Zulte Waregem game.