QPR heroes are not saviours just yet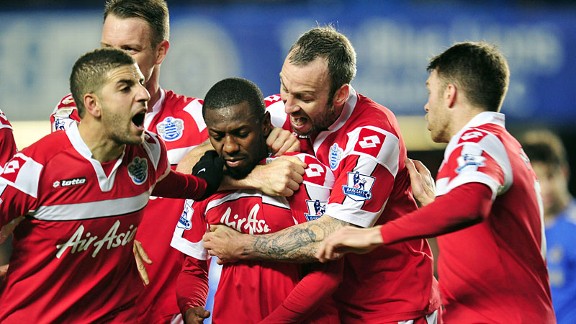 GettyImagesSWP's goal against his former club gives QPR a glimmer of hope
For all of their heroics at Stamford Bridge, Queens Park Rangers are still bottom of the Premier League. They have only 13 points and would have to win nine of their remaining 17 games just to hit the time-honoured 40 point marker that usually guarantees survival. That could be nine in 15 very soon, given that their next two league games are against Tottenham Hotspur and Manchester City. They have it all to do and yet, after the extraordinary victory over Chelsea, you wouldn't want to write them off.

- Smith: World crashes off axis, QPR win away
- Lythell: Chelsea pay the price for complacency

In a relegation battle, so much comes down to confidence and momentum, something Harry Redknapp knows only too well. The QPR boss saved an apparently doomed Portsmouth from relegation in 2006 despite winning only two of his first 13 games. Six wins in nine as the season closed proved enough to preserve their status. In stark contrast, his Southampton team went down after winning just one of their last eight games in 2005. Was this a freakish result, or will it give the players the belief that they have the quality to beat anyone?

QPR certainly benefitted from the fatigue in Chelsea's ranks on Wednesday night, but key to their victory was the way they shook off their uncertain start and rediscovered a degree of confidence in their own game. They were staggeringly clumsy before the break, giving the ball away repeatedly and allowing too many moves to break down in their infancy. But instead of allowing their heads to drop, as they have down throughout this season, they somehow found the resolve to keep going. At the back, Clint Hill and Ryan Nelsen gave assured displays, their confidence radiating through the rest of the team. For the first time in many months, they began to look like a team who trusted in one another.

QPR chairman Tony Fernandes claimed on Twitter last week that, "everyone was full of praise," when he unloaded his scattergun on the transfer market this summer. By 'everyone', one can only assume that he meant, 'agents'. While no-one can fault his commitment to his new club and his willingness to fund them, there was absolutely no logic behind his recruitment policy. What was the point in signing Rob Green on a huge wage and then almost immediately replacing him with Julio Cesar? That's the kind of thing you do by accident when you boot up your Football Manager game after rolling in from the pub. QPR are currently paying two goalkeepers more than most Championship teams pay their entire first team squads.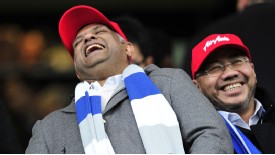 PA PhotosTony Fernandes says he will stay with QPR even if they are relegated
There is nothing wrong with ambition, and Fernandes certainly shouldn't be criticised for his generous financial backing, but his transfer policies were like a play-by-play guidebook to destroying team spirit. If the squad that worked determinedly to secure promotion from the second flight suddenly find their wages dwarfed by tranche after tranche of new arrivals, you can only expect trouble. If the new arrivals' determination is dwarfed by their greed, that trouble will be multiplied. Football can be a simple game, but it's not so simple that you can just blindly chuck money at a team and expect it to improve.

It is, however, so simple, that one good win can galvanise a squad, and wins don't come much better than this one. There was so much in this display to please Redknapp, the performance of Adel Taarabt being a case in point. The Moroccan is a Champions League standard footballer with a mentality that may keep him from ever playing in the Europa League again, but this was a rare glimpse of what he could achieve if his effort levels improved. He harried, chased, worked and his delicate touch to set up Shaun Wright-Phillips for the winner was absolutely divine.

Redknapp will need to be ruthless now. He is unlikely to be able to convince his high-earners to sacrifice their ludicrous contracts and leave, but there can be no easy way back for players like Jose Bosingwa. The former Chelsea man made it clear that he deems his own requirements more important than the team. Redknapp needs to ignore the likes of him, harness the spirit on display at Stamford Bridge and maintain it through the run-in. It's not going to be easy. If QPR do survive, it will be one of the most extraordinary recoveries of the Premier League era. But they have a chance now. They just have to seize it.