Berg, Kean, fans not the problem at Blackburn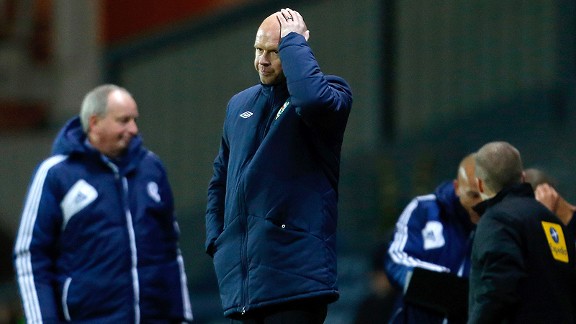 Paul Thomas/Getty ImagesThe issue with Henning Berg isn't that he won just one of 10 games in charge at Blackburn; it's why he was ever hired in the first place.
Ordinarily, the sacking of a football manager after just 57 days in charge might come as something of a surprise. But nothing that Blackburn Rovers do is surprising anymore. In the two years and one month that the Venky's Group have been blindly slapping buttons and yanking levers in the boardroom, they have transformed a respected football club into a laughingstock. From the safety of the Premier League, Blackburn now find themselves falling to the bottom of the Championship like a brick tossed down a well.

Like Steve Kean before him, the tragedy of Henning Berg is not that he was sacked but that he was ever appointed in the first place. Kean bore the brunt of the fans' anger -- rightly so, given that he took their club down -- but why was a rookie coach installed in place of an experienced and proven manager? Berg won just a single game in his 10-match spell, but why was a man with such a modest track record appointed to such a challenging role in the first place? Was he given the job purely because he had once played for Blackburn?

And what of the man who makes these decisions, global adviser Shebby Singh? For the reported 400,000 pounds he earns every year, what is he bringing to the table? He's a Malaysian footballer turned controversial TV pundit; what does he know of the battle-scarred quagmire that is the second flight?

Ultimately, Blackburn's fans deserve better than this. The supporters aren't stupid despite the best attempts of some to paint them that way. They knew that even under normal circumstances, it was highly unlikely that Rovers would ever return to the top of the table. The days when Jack Walker's money was enough to help them challenge the likes of Manchester United are long gone.

Berg sacked as Rovers boss

They also knew that being located too close to Manchester and Merseyside to enjoy widespread support in the region, Blackburn would always have to work hard to sustain themselves in the top flight. But with sensible senior management from John Williams and team management from Sam Allardyce, that's exactly what they were doing. There were bargain signings, progression from the youth teams and tactics that maximised their resources.

And then everything was thrown away in a ludicrous and hopeless lunge for the big time. Did they think Allardyce had constructed a prosaic, functional team for fun or because that was the best way to survive? They know now.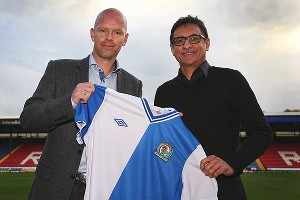 Alex Livesey/Getty ImagesShebby Singh, right, is the public face of Venky's Group, the collective that has taken Blackburn from Prem comfort to the brink of disaster.
Oddly, it was the supporters who were pilloried for their reaction to last season's inevitable relegation. When they had the temerity to protest against a manager out of his depth and owners that appeared to have all the football knowledge of a 10-year-old boy who had just played "FIFA 2011" for the first time, they were dragged through the mud. "How can they boo their own manager? Don't they realise that it's not helpful to attack their own club?" asked the pundits.

What those experts failed to grasp was that Blackburn Rovers had ceased to be "their own club" when Venky's first arrived. The fans knew exactly what was happening. They knew that their future had been squandered by feckless know-nothings. They knew they were going down and were paying through the nose for the privilege of watching it firsthand. And they were expected to paint their faces, dance a jig and blow kisses to the owners while it all went up in smoke in front of their eyes? They had every right to jeer.

Blackburn Rovers are no longer a functioning football club. They're twisted wreckage on the side of the road, something for us to slow down and peer at before accelerating away and thanking God it wasn't us. Who would now slip their tracksuited bottom into Berg's vacated seat? Who would work for the Venky's Group knowing that, along with common sense, wisdom and know-how, there is now a marked absence of patience, too?

Cynics might remark that football is nothing more than a business, but Blackburn Rovers weren't formed in 1875 to maximise commercial revenues in the sub-continent or to secure generous TV rights. They weren't established to be a plaything for naive chicken merchants in search of adulation. They were created to represent the people of Blackburn. On that basis, they are no longer fit for purpose.

If Venky's had any sense, they would hand the club over and walk away. But you fear that far from this being a nadir, Blackburn's descent has only just begun.

Iain Macintosh is the UK Football Correspondent for The New Paper in Singapore and the co-author of "Football Manager Stole My Life" from @backpagepress. You can follow him on Twitter at @iainmacintosh.