Wilshere contract another 'trophy' in the cabinet
Arsenal have been so starved of success recently that all sorts of things have started to feel like trophies. Finishing in the top four? Trophy. Having a marketable global brand? Trophy. Getting a smile from that cute blonde barista in the coffee shop? Trophy.

- Five commit futures to Arsenal
- Limbert: Building a British core at Arsenal

Much mocked and oft-maligned for their reduced circumstances, it's no surprise that the club has played it cool with the announcement of Jack Wilshere's new long-term deal, hiding it away with four other deals. But for once, you wouldn't be able to blame the club for getting overexcited. That signature means so much, it's almost worth driving it up the Seven Sisters Road on an open-top bus.

Wilshere isn't just a footballer, or even just a very good footballer -- he's a symbol. A representation of the glorious future to which Arsenal believe they are entitled. Arsene Wenger's grand plan was to set up an assembly line of footballers bred, bought and swiped, all capable of competing for titles on a regular basis. He succeeded, but the idea was that Cesc Fabregas, Robin van Persie and Alex Song would actually compete for titles with Arsenal. Having lost a string of top players, and Kolo Toure, to richer clubs, letting Wilshere leave would have been like pulling out a load-bearing support from the Emirates Stadium.

Wilshere has the capability to be the engine room of Arsenal for at least another decade. Like Roy Keane at Manchester United and Steven Gerrard at Liverpool, he has a bond with the supporters that can't be bought or faked. He is also fast becoming the man his team-mates turn to for inspiration when prematch plans are FUBAR. In the short time that he has been back, Wilshere has shown that he regards the club's current form as some kind of personal affront.

In the shame of the defeat to Bradford, it was he who vainly led the fightback, demanding the ball from more senior and less competent colleagues. While so many heads around him dropped, he lifted his own in search of the one pass that would open up the opposition. He is Arsenal's captain-in-waiting. Like Keane, he doesn't shirk his duty or shy away from a scrap. Like Gerrard, he has the ability to suddenly punch a football match full in the face and drop it to the ground with a mouth full of blood as it wonders what on earth just happened.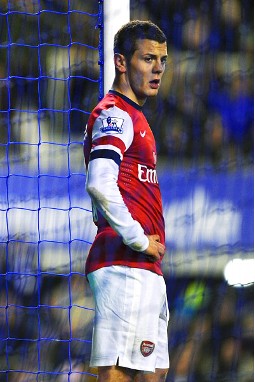 Laurence Griffiths/Getty ImagesJack Wilshere can be the driving force at Arsenal for the next decade.
The 20-year-old has spent almost a year and a half in an extraordinary state of reputational flux, becoming a more important player with every day he spent on the sidelines. When he first succumbed to injury, he was merely a teenager on the up. By the time he returned, he was England's great hope and the only man who could stop the rot at Arsenal. While he still has to prove himself at international level, and there's nothing to suggest he'll fall short, there's absolutely no question that he's an invaluable asset for the Gunners, both on and off the pitch.

As a player, Wilshere's talents are obvious. Though he broke into the team as a tricksy winger, humiliating Real Madrid's Michel Salgado in the 2008 Emirates Cup, he has settled into a central role that allows him to exert influence on the game in whatever direction is required. Technically, Wilshere has very few weak points. He has an excellent range of passing, he is ferocious in the tackle -- too ferocious sometimes -- and he is tactically aware enough to know whether he should be dropping back or pushing up.

Mentally, he still dances on that fine line between controlled aggression and reckless idiocy, occasionally wobbling into the latter category at the slightest provocation. If ever there is a confrontation, you will always find Wilshere at the centre of it, snapping and snarling like a hormonal pit bull. Naturally, this only endears him further to the Arsenal fans. Having put up with the fleeting "efforts" of players like Emmanuel Adebayor and Samir Nasri, they're delighted that when Wilshere says he wants to fight for the club, he's probably speaking literally.

This has been a hard two months for Wenger, probably the hardest in his Arsenal career, and the storm hasn't yet passed. He won't be fooling himself that the result at Reading has banished the crippling self-doubt at the heart of this club, but now that his star pupil has signed this new deal, he will at least be able to look forward to the future with whatever passes for optimism at the Emirates these days.

Iain Macintosh is the UK Football Correspondent for The New Paper in Singapore and the co-author of "Football Manager Stole My Life" from @backpagepress. You can follow him on Twitter at @iainmacintosh.