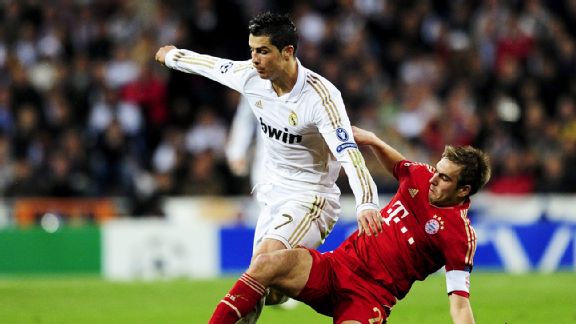 AllsportCristiano Ronaldo and Philipp Lahm meet again in the Champions League.
And so it comes to this. Again.

What may have looked like a boon for la Bestia Negra when Luis Figo drew Bayern Munich and Real Madrid together in their sixth semifinal encounter in Champions League competition -- Bayern having gone through four times -- has turned out to be anything but. Legions of the club's supporters believe their squad has put the brakes on since winning the Bundesliga in March.

While I vastly preferred to face Chelsea in the semifinals -- not wanting to face a one-off in the final against Munich's most recent "bogey team" -- there was something to be gained by the knowledge that Real Madrid would not (can't) park the bus, and that Bayern's possession game matched up very well against an open, attacking Los Merengues side. Continue Reading...