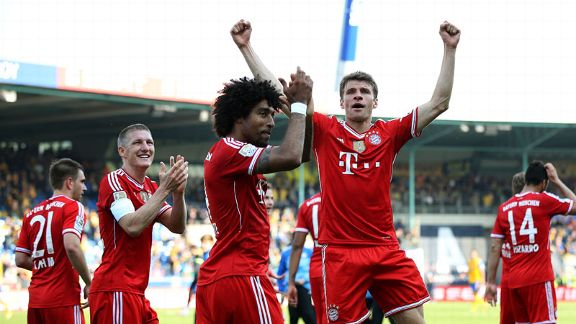 GettyImagesPhilipp Lahm, Bastian Schweinsteiger, Dante and Thomas Muller celebrate the win over Eintracht Braunschweig.
Eintracht Braunschweig battled fiercely against a lacklustre Bayern Munich side on Saturday afternoon as Pep Guardiola's side exuded the air of a team with focus on the Champions League.

The current holders of European football's biggest prize face Real Madrid on Wednesday and warmed up with a hard-fought 2-0 victory over a team battling relegation. Guardiola's side have gone off the boil in recent weeks, perhaps in part due to sealing the Bundesliga title so early. Manchester United, for all their travails in England, scared Pep's men at times in the last round and Saturday's victory over Braunschweig was rather mundane; bereft of the swagger we have come to expect from the German champions. Continue Reading...