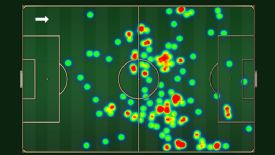 Other / ESPN Stats & InformationA map showing Toni Kroos' passing illustrates the passes he directed toward the right flank.
An Arjen Robben hat trick plus efforts from David Alaba and Mario Mandzukic and an own goal from Rafinha saw Bayern Munich do all the scoring in a 5-1 rout of Schalke 04 on Saturday. Schalke defender Kyriakos Papadopoulos saw red 15 minutes from time as the Royal Blues were outgunned and outclassed by a Munich team that have now won 16 consecutive Bundesliga matches and lead the league by 20 points.

However, there's not much to be gained assessing Schalke in this one. Indeed, they were so poor on the day -- and four days earlier against Real Madrid -- that one might wonder whether the result was because Bayern are that good or Schalke are that bad. Continue Reading...