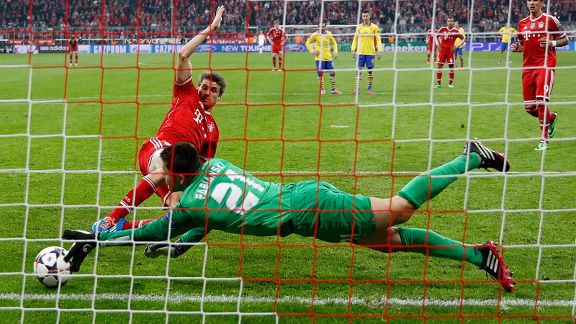 GettyImagesBayern were far from their best but did enough to slide past Arsenal.
MUNICH -- A 1-1 draw at the Allianz Arena saw Bayern Munich progress to the quarterfinals in a feisty, testy -- yet somehow boring -- Champions League match. Bastian Schweinsteiger opened the scoring for Bayern, but three minutes later a familiar face in Lukas Podolski equalised for Arsenal, and that was how it remained.

This was not an impressive display by either side, but Bayern managed to control much of the match without an answer from Arsene Wenger's men. With 591 passes completed, compared to Arsenal's 235, Bayern exerted somewhat lazy control -- never really finding that last pass in Arsenal's third to put the tie completely out of reach. Continue Reading...