BVB win hearts, FCB win the trophy
It would take two days after the devastating loss to Chelsea in last year's Champions League final for me to put my fingers to a keyboard. Two days of tears, trying to wrap my head around it all. Two days until I could find the words to be gracious, feeling anything but.

This time around, London was strewn in black and yellow in a brilliant (yet pandering) marketing campaign by Borussia Dortmund, the club turning all neutrals and all London onto "Echte Liebe" -- although you'd never see that phrase in German here, just "True Love." Juergen Klopp would charm the pants off the English media, delivering his guru-like news conferences in English, making the world believe that Dortmund is a workman's club and Bayern the evil empire.

Dortmund is the 11th biggest club in Europe in terms of revenue, so it's a fairly large business. But it was popular to wear the Dortmund colors here in town, and the media praised its fanbase as better, bigger, louder, happier. Of course they were! This was their #fairytale. After stumbling in the Bundesliga early, Klopp decided to concentrate on this competition, trying to better the group-stage exit of last season.

Meanwhile, Bayern Munich was all business. From the news conferences delivered in German, as they've always been, to the players arriving at the hotel stone-faced and with their heads down, not stopping for pictures or autographs, Bayern wasn't in London to charm the world. Bayern Munich was here to win.

This "fairytale" competition has been a nightmare for the Bavarian club over the past several years. The "football, bloody hell" final of 1999 would be avenged two years later as Bayern picked up its fourth Henkel Pott.

And while the club is generally a threat in Europe, it wouldn't find its way back to the final until it faced Inter Milan in 2010. While the loss to Inter would be disappointing, both teams going for the elusive treble at Estadio Bernabeu, I don't think it really surprised anyone. Without Franck Ribery, Bayern was a one-trick (Arjen Robben) pony, and with no support from the opposite side of the pitch Bayern never really looked threatening.

And after the ignominious defeat to Chelsea in Bayern's own stadium, Bayern Munich supporters showed up this weekend in London feeling wary, nervous. They wanted to believe, yet not daring to hope, no one really able to grasp what would happen if Bayern Munich lost a third final in four years.

As glamorous as the club seems on the surface, the heart of Bayern Munich is its ultras, its fan clubs, the people that hop on buses and trains every week, traveling insane distances for Bundesliga matches, while scraping together every last euro to travel to a final like this.

And, as the match started, and Bayern faltered, the Munich end got quiet. Really quiet.

The tension was palpable among the 22,000 supporters as they (and I) watched Manuel Neuer make one fabulous save after another as the last man standing to deny Dortmund its relentless press. Dante's errors would force Bastian Schweinsteiger back to cover, and effectively took him out of the beginning of the match.

But, after weathering the inital Dortmund storm, Bayern would slowly grasp control of the match, culminating in Mario Mandzukic's opening goal: Franck Ribery and Arjen Robben ganging up on the left, Ribery clipping the ball to Robben, who passed to Mandzukic in front of an open net.

The Bayern end went absolutely bananas, people finally daring to believe, until Dortmund equalized as Dante's clumsy tackle on Marco Reus brought Ilkay Guendogan to the spot. The midfielder sent Neuer the wrong way with a well-struck penalty.

Although the score was tied, Dortmund's pressing game started to flag. Jupp Heynckes looked a genius for his conservative start to the match as the game wore on, with Bayern getting the far better run of play in the second half.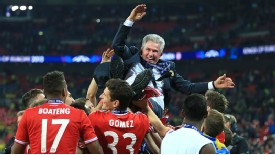 PA PhotosJupp Heynckes is on the verge of completing the Treble
Roman Weidenfeller would try to outdo Neuer, making fantastic saves from David Alaba and Schweinsteiger's long-range shots. And he would just get fingertips on a Manduzkic effort, narrowly tipping it onto the crossbar.

Munich's end gasped as Neven Subotic made a clearance at the line on Thomas Mueller, while Robben would be denied by Weidenfeller several times during the match. People in the stands could be heard grumbling every time he shot, the Dutchman wrongly a pariah for his penalty miss in last year's final.

In the 89th minute, Robben took off down the center of the pitch, collecting Ribery's cheeky backheel, which took a deflection. Twice denied by Weidenfeller in one-on-one situations already, the Dutchman wouldn't make the same mistake again. He shot early -- the ball lazily crossing the line -- and sealed his redemption, along with Bayern Munich's fifth European crown.

As the final whistle blew, with Dortmund players collapsing to the pitch deflated, I looked around to my fellow supporters as the tears flowed down my face. Everyone else was crying, too. Old men, kids, young women, Bavarian giants. Everyone. This wasn't just redemption for Arjen Robben and Bayern Munich. This was redemption for, well, everything.

All the years of disappointments and near misses. Finally. Finally. This club, this team, has a heart of absolute gold. The most telling moment was the handing of the trophy to embattled president Uli Hoeness. He'll have to step down after this season is complete, after next weekend. Sadly, there is no other choice. Bayern Munich is bigger than one man, even though that man got them where they are today.

Fair play to you, Borussia Dortmund. It was an entertaining match full of plots, subtext, and entertaining play, and you could very well be holding up the trophy today. But this day was Bayern's. Again, like last year, it was written in the stars, and it was finally Bayern's fairytale.

You can keep your Dortmund, London. Indeed, it's a fine organization to follow -- there aren't too many clubs better. But I'll keep my Bayern Munich, please and thank you. The passion, disappointment, absolute joy, pain, pleasure -- all of it. I love this team. And today I feel like I'm the luckiest girl in the world.