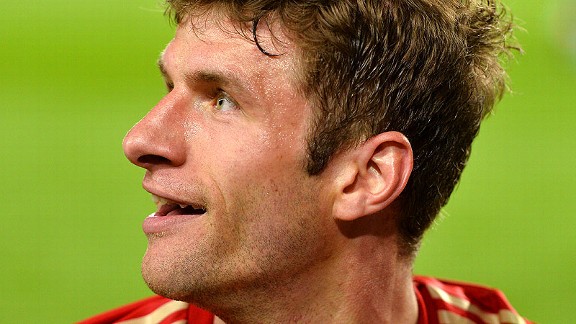 Mike Hewitt/Getty ImagesNo player better represents Bayern's steady excellence than Thomas Mueller.
There are things to be said about the importance of all 11 Bayern Munich players that will take the pitch against Borussia Dortmund in Saturday's Champions League final. But, while Dortmund has taken it upon themselves to ingratiate themselves with the English via their yellow double decker bus, and "bobbies" dressed out in black and yellow, Bayern Munich needs no such propaganda: One only must look to Thomas Mueller.

- Delaney: The personalities set to dominate final
- Bennett: Bundesliga battle in Wembley

How could anyone not like Thomas? Goofy, loveable, serious-ish when he needs to be and one heck of a footballer -- despite those skinny legs. He came over to Bayern from TSV Paehl in 2000 -- just aged 10 years old -- to join the Bayern youth academy.

In 2008, then-Bayern coach Juergen Klinsmann brought him up for a few Bundesliga appearances before Louis van Gaal took over. And with the coaching change, Mueller would feature initially as a sub, before earning his placement in the Bayern Startelf soon after. Van Gaal would say of Mueller: "With me, Mueller will always play."

With van Gaal backing the youngster, Germany national team coach Jogi Loew saw fit to include him in his 2010 World Cup squad. Thomas would repay that inclusion by winning the Golden Boot.

This season, he'd start as playmaker, then move to right wing, and then after Toni Kroos' season-ending injury, he'd go right back to the ten spot without missing a step. Eight goals and two assists in Champions League competition this year are added to his 13 goals and 11 assists in the Bundesliga.

Yet, he's not a common playmaker. He would even create his own term for what he does: Raumdeuter (space investigator). He pops up in the most unlikely of places when playing offensively, meanwhile fighting for every ball and closing down space quickly on defense.

His partnership with Mario Mandzukic up top has flummoxed Champions League competition throughout this tournament -- most notably the duo rendering Andrea Pirlo completely ineffective through the Juventus tie.

With the fluidity of the whole offensive line of Bayern, Mueller and Mandzukic can usually be found ganging up one on side of the pitch to better assist Franck Ribery or Arjen Robben. And the formation when the tandem is starting would seem to play more like a 4-4-2; Mueller as far up the pitch as Mandzukic.

Mueller is game for this match, eager for Bayern and himself not to be branded as losers: "It's important for us to win, because if you lose three times you get the loser tag and we don't want that stamped on us."

He is an imminently important cog in this Bayern wheel, and one might only need to look back to last year's final against Chelsea. You need a goal late? Mueller's your man. But, he will also be used -- like against Juventus and Pirlo -- in putting pressure on Ilkay Guendogan, and hassling Klopp's men in to a game plan they didn't expect.

Watching Thomas leave the hotel to the Bayern press conference today, there were no smiles. No cheeky grin. His face was all business. And when asked, at the conference, about the team being nervous for the match, he replied: "No one will s*** in their pants."

A little humor after all.