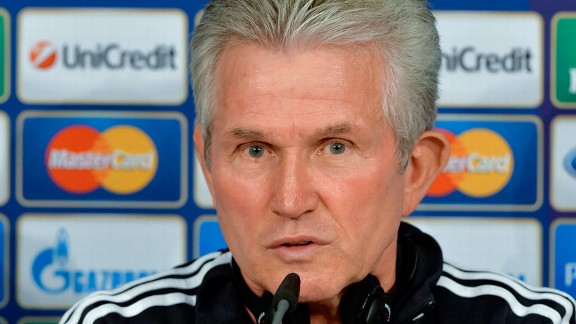 Guenter Schiffmann/Getty ImagesJupp Heynckes will manage his final Bundesliga match against the club where he starred for so many years, Borussia Moenchengladbach.
Spox.de recently held a vote on the best team ever in 50 years of Bundesliga competition . Fittingly (or perhaps prematurely, depending on who you ask) Borussia Moenchengladbach's 1970-'71 side beat out this year's Bayern Munich in the final.

And fittingly again, Jupp Heynckes -- with 'Gladbach as a legendary striker, and now at the helm of Bayern Munich -- was, and now is, an integral part to both teams' successes. Domestically, the '71 Fohlen side were the first team to defend a Bundesliga title: 34 matches, 20 won, 10 drawn and four lost -- 50 league points (at the time, only two were given for a win) and a plus-42 goal differential.

- Lahm: We'll be ready for Dortmund
- Heynckes: I've had offers from abroad

Modest, I guess, when compared to this year's Bayern Munich totals, currently at 33 matches played, 28 won, four drawn, one lost -- 88 league points and a massive plus-79 goal differential. But, Germans have long memories concerning football, and the 1970s were indeed the Golden Age with 'Gladbach winning the league five times, while Bayern Munich would win in Europe three consecutive years. A veritable who's-who of German footballing legends come out of that decade.

Heynckes' time at 'Gladbach -- with a three-year stint at Hannover 96 sandwiched in the middle -- keeps him in third place on the all-time Bundesliga scoring charts with 220 goals in 369 apperances. He trails Gerd Mueller (365/427) and Klaus Fischer (268/535) while having scored .6 goals per game; that record only bettered by "Der Bomber" Mueller at .85 and Horst Hrubesch at .61, all the while being a member of the DFB squad that won the 1972 European championships and the 1974 World Cup.

And that's just as a player.

As a manager, his tenures would be a bit uneven. Some successful, some not. He started his managerial career at his hometown club, Borussia Moenchengladbach -- taking over for Udo Lattek in 1979. In eight years coaching the Foals, he would gain no titles before taking over Bayern Munich for the first of three times in 1987.

Bayern Munich won the Bundesliga in 1989 and '90 under Heynckes' guidance, but he'd be sacked by Uli Hoeness; the current president of Bayern calling it his "worst mistake ever". He'd end up at Athletic Bilbao in 1992, and in two years got los Leones in to a UEFA Cup spot before disaster struck at Eintracht Frankfurt.

Having lost the dressing room at Bayern, he'd lose it again with die Adler with his insistence on strong discipline. And after a brief successful spell at CD Tenerife, again guiding his team in to UEFA Cup competition, he'd be hired by Real Madrid in 1997 -- returning Champions League glory to the storied club in '98 after 34 years without that title.

Raphael Honigstein's excellent article in The Guardian lays out the reason for Heynckes' premature Real Madrid firing. Honigstein writes: "A fourth-placed finish and uninspired football are frequently cited for that dismissal, but in reality president Lorenzo Sanz had fatally undermined him in the dressing room. Heynckes had tried to impose fines on his hard-partying "Ferrari team"; Sanz told Mijatovic, Seedorf and Co. not to worry."

He'd move on to Benfica, then return for two years at Bilbao, and one at Schalke 04, before returning to lead his childhood club 'Gladbach for the second time in 2006. But after not winning 14 consecutive matches -- and receiving death threats -- he retired in January 2007.

Seemingly done with football, he'd catch the bug again in 2009, taking over for Bayern's final five matches as caretaker manager after Juergen Klinsmann's disastrous tenure that season. Realizing he still had it in him, he'd move on to lead Bayer Leverkusen in '09 -- spending his first 24 matches with the club unbeaten, reaching the last 16 of Europa League the next and with a second-place finish in the Bundesliga.

And then Bayern Munich came calling once again.

Heynckes took over the Bavarian giants for the third time in 2011. After securing a second-placed Bundesliga spot that year (losing out to Borussia Dortmund), 2012 would see his club again in second place (again to Dortmund), losing the DFB Pokal to the same and the Champions League to Chelsea.

Would he, the oldest coach in the Bundesliga, have it in him to come back from the heartbreak of 2012? He's certainly silenced any criticism laid at his feet by the stunning form of this year's record-smashing Bayern Munich, leading Karl-Heinz Rummenigge to muse, "We've broken the record for breaking records."

Heynckes would begin this season thinking it would be his last, and the Bayern brass went searching for a suitable replacement. The allure of former Barcelona manager Pep Guardiola's availability -- coupled with Jupp's indecision on whether he was staying or going -- prompted Bayern to sign the enigmatic Guardiola. But the leaked announcement, earlier than it should have been, and Bayern's subsequent press release saying Heynckes would retire brought the "Osram" out in him. The moniker first derisively, but now affectionately, leveled at Heynckes for his alarming shade of pink that his face takes on when he's under the gun.

When Bayern tried to throw him an olive branch, offering a position at the club, he tartly replied, "I'm not interested, Moenchengladbach is my club." And when asked, before the Barcelona tie, if he'd be contacting Guardiola for tips, he sneered, "I don't need advice from any other coaches."

Although he's now linked to just about everyone, Heynckes seems likely to retire after what could be his ultimate swan song -- this Bayern Munich team, the favorites for a treble. "Saturday will be my last Bundesliga game as a coach," he said, "If I was 15 years younger I would seriously think about a job abroad, but I am a bit long in the tooth."

And it couldn't be any more fitting that Bayern travels to Moenchengladbach for the last game of the season. A team that -- as a striker -- he led to greatness, with a team -- he leads as manager -- that just might eclipse that fantastic '70-'71 Borussia Moenchengladbach side.

There are a couple more matches that will secure (or not) the '12-'13 version of Bayern Munich's place in history. And perhaps after it's all said and done, Jupp Heynckes will consider both Bayern Munich and Borussia Moenchengladbach his clubs.

And the circle closes.