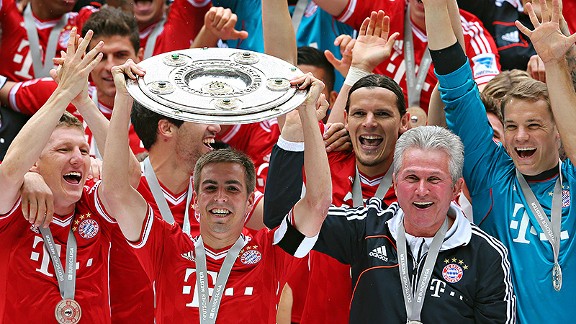 Alexander Hassenstein/Getty ImagesOne down -- two to go? Philipp Lahm lifts Bayern's 22nd Bundesliga trophy as Bastian Schweinsteiger, left, coach Jupp Heynckes and goalkeeper Manuel Neuer celebrate after Saturday's match.
Augsburg did their best in trying to dull the eventual post-match party Saturday, but a patient Bayern would be rewarded with three second-half goals in a 3-0 victory Saturday in Munich. Bayern increasing their lead ahead of Dortmund, now at 22 points, for 88 Bundesliga points and an astonishing plus-79 goal differential.

A veritable who's-who of former Bayern players were on hand -- 22 in all -- to welcome this record-breaking incarnation of Bayern with the Meisterschale for the 22nd time in 50 Bundesliga attempts. Pre-match, outgoing manager Jupp Heynckes accepted a bouquet from Karl-Heinz Rummenigge -- symbolic for Jupp's service to Bayern Munich and acknowledging his final coaching apperance in the ever-packed Allianz Arena.

-Video: Bayern 3-0 Augsburg (UK, Ireland)

But Markus Weinzierl and his men spoiled the party atmosphere in the Allianz with a compact defensive first-half display and also got some good runs on the break. Tobias Werner shot at Manuel Neuer twice in the first 15 minutes, the second off Neuer's chest after a lackadasical spell by Dante and partner Daniel van Buyten.

Bayern, while not getting net, still enjoyed the better of the first half with a very high press. Thomas Mueller collected Arjen Robben's long diagonal with a flicked header, nearly getting the best of FCA keeper Alex Manninger. Philipp Lahm collected a short free kick from Robben, saved again by Manninger.

Dante would get a header off before Javi Martinez got a forward pass in just ahead of Mario Mandzukic. The Croatian did a bit better in his next attempt, catching Manninger unaware in the throat.

Dante was called in to action again against Werner, nicely playing out of danger, before Martinez escaped a penalty call after a leg sweep in the box. Strangely, referee Marco Fritz called a free kick against Augsburg on the very next play -- Robben making a meal out of a slight touch.

Fritz finally had enough of the tussling between Martinez and Jan Moravek, showing Moravek yellow on 32 minutes. Bayern finished out the half always threatening, but lacking in some last touches and communication.

The second half started with more open play on either end as neither team would be content with a 0-0 draw. Augsburg needed points, and Bayern needed to put on a show. Bastian Schweinsteiger almost scored for the Bavarians just two minutes in, curling a free kick from distance centimeters wide, while Werner again threatened Neuer with a volley kicked over goal.

Ji Dong-Won's shot, taking a wicked deflection off Martinez, would come tantalizingly close, the ball just bouncing off the corner of the crossbar and post after Neuer lost sight of it.

After a stalwart 69 minutes by Augsburg, Bayern would finally get one past Manninger -- Dante crossing in to an unmarked Mueller. Mario Gomez came on for Mandzukic, while Xherdan Shaqiri came on for Robben as Heynckes looked to add a little spark.

That came in the form of Bayern's little sparkplug. Shaqiri came through for Bayern's second as Franck Ribery got down to the touchline, passing back to Xherdan. The Swiss international did well to turn and shoot past Manninger.

Luis Gustavo came on for Mueller and also made his inclusion known with Bayern's third, after Ribery confounded three defenders and kicked out to Luis Gustavo for the volley. And lovely defensive team work by Bayern was present at the other end as the team preserved Neuer's clean sheet.

And then, as they say, the rest is history. A lovely sea of red and white. Confetti and beer showers all over the pitch. And the big ugly salad plate returns to Bayern Munich after a two-year wait. As I type, the motorcade is traveling to Marienplatz to unveil the Meisterschale in front of many thousand inebriated Bavarians.

The boys get to celebrate Saturday night. And then it's back to work Monday for 'Gladbach, then Dortmund in the Champions League final, then Stuttgart in the DFB-Pokal final. And by June 1, we will know where this Bayern Munich team stands in history.

Danke jungs, Danke Jupp!