Hoeness staying in the house -- for now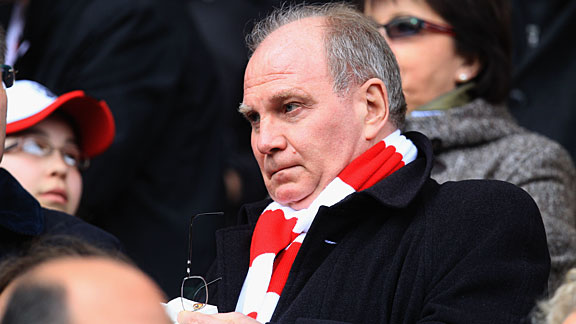 GettyImagesUli Hoeness has been the target of criticism in recent weeks
Those who support Bayern Munich know Uli Hoeness' story well: The son of a butcher was recruited by then-Bayern manager Udo Lattek from TSG Ulm 1846 in 1970. In 239 Bayern appearances, Hoeness scored 86 goals, won three Bundesliga titles and three European Cups.

He would suffer a knee injury in the 1974-75 Cup final against Leeds United -- one from which he would never fully recover -- eventually being loaned out to FC Nuremberg in the 1978-79 season. Unable to gain full fitness, he hung up his boots in '79, immediately accepting a position with Bayern as general manager.

-Hoeness' tax problems

The ensuing years, first as general manager, and now as president and chairman of the board, saw Uli lead the club in continuing sporting and financial success; adding 18 league titles, 10 Pokal titles, a Champions League title and a Europa League title to an already bursting trophy cabinet. All the while keeping Bayern Munich in the black, with an estimated current worth over one billion euros.

A 1982 plane crash in which he was the sole survivor, ultimately made him a kinder, gentler Uli. He would put his heart and soul in to the club, while helping others along the way. Borussia Dortmund, 1860 Munich, St. Pauli, Fortuna Sittard and Dynamo Dresden have all been recipients of Bayern's help, while former and current players Gerd Mueller, Mehmet Scholl, Franck Ribery and Breno have also received assistance.

With his trademark red and white scarf, Hoeness' ubiquitous presence in the stands -- eating Eis, weather-permitting -- has been noted for many years, so when he missed a match in March his absence was noticed.

At the time, he would say he was sick, but it would turn out to be a much more serious issue -- he was jailed for tax evasion pursuant to a Swiss bank account.

The man who managed Bayern's finances -- and those his sausage factory -- so spectacularly over the years couldn't manage his own. He copped to a stock market addiction problem as the reason for the account, paid the five-million-euro bail, the three million euro owed in taxes, and threw himself on the mercy of his club and all of Germany.

One has to wonder how he could get it so wrong when he had gotten everything else so wonderfully right? Bayern Munich, on the cusp of a treble, is arguably having their best season ever -- the full truth of that statement will be available June 1 -- breaking almost every notable Bundesliga record (most held by previous Bayern squads) along the way.

Addiction is a very persuasive thing.

In light of the continuing scandal, Hoeness offered to step down as chairman of the board in Monday's regular board meeting.

The Bayern press release:

One of the topics discussed at Monday's regular scheduled meeting of the FC Bayern München AG supervisory board in Munich was the fiscal case concerning supervisory board chairman Uli Hoeness.

Addressing the supervisory board, Uli Hoeness offered to step down temporarily from the office of chairman of the supervisory board until the relevant authorities come to a decision on whether his voluntary self-disclosure exempts him from penalty. Uli Hoeness expressed regret about the matter and apologised to the board.

In the interests of FC Bayern, the need to focus solely on achieving the club's further sporting goals in the Champions League final on 25 May and in the German cup final on 1 June 2013, and following intensive discussion, the FC Bayern Muenchen AG supervisory board agreed by mutual consent that Uli Hoeness should continue to exercise the office of chairman of the FC Bayern Muenchen AG supervisory board.

The supervisory board will continue to monitor the matter and will return to the subject once there are further developments.

Hoeness rightly retains his position at the top of Bayern Munich to see out what could be their epochal season. Perhaps it will turn out to be Uli's swan song -- as perhaps it will be for Jupp Heynckes' -- but Bayern Munich is a club where legends are born, made, come and go.

I can't imagine the club without Uli at the helm. But I couldn't imagine the club without Franz Beckenbauer at the helm either. For now, however, FC Bayern Munich marches on: The house that Uli Hoeness built.