Dortmund v Bayern: Irrelevant?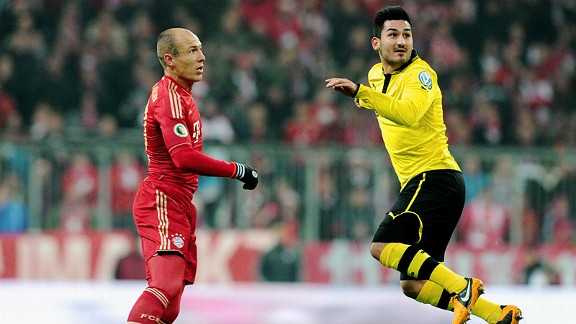 Christof Stache/AFP/Getty ImagesIlkay Gundogan and Borussia Dortmund will have to wait until Wembley before they get a crack at Arjen Robben who is staying in Munich and won't play in this weekend's Dortmund-Bayern Bundesliga clash.
If you would've looked at the Bundesliga schedule when it came out over the summer, I'm fairly certain your eyes would have been drawn to this weekend's fixtures, specifically Bayern Munich at Borussia Dortmund.

And then you would've probably thought, "Well, that could be the match that decides the whole thing." And you wouldn't have been alone in thinking that.

- Delaney: Bayern-Barca difference
- Bundesliga rivals set to meet

But, Bayern came storming out of the gate, emphatically trying to right the wrongs of 2012, and Dortmund stumbled early in the league, indeed forcing them to concentrate on Champions League competition. And this match, which became largely irrelevant at the start of the Rueckrunde, is wholly irrelevant now. Who would have thunk it?

Bayern Munich has already won the Bundesliga, while Dortmund has just about sewn up second place, and both teams will be looking to field full strength sides in London May 25th.

Jupp Heynckes is keeping Franck Ribery, Arjen Robben, Philipp Lahm and Bastian Schweinsteiger in Munich to shake off small knocks, and he's thinking Juergen Klopp will do the same: "I'm assuming our rivals Dortmund will field a different line-up from the game in Madrid."

Klopp cagily replied: "I have no idea what Jupp will do, and whether we'll actually know all the players he sends out. But I'll also have to consider who we can send into battle, and who we want to send into battle. Maybe we'll be thrashed, but it'll be our least painful defeat to Bayern ever in the Bundesliga."

Klopp is definitely missing future Bayern star Mario Goetze who tore his hamstring in the opening minutes of Dortmund's Real Madrid clash. But the young attacker is looking to be fit for the Champions League final.

Bayern's "B squad" -- one that starts Mario Gomez up top, with Claudio Pizarro in the hole behind him, Thomas Mueller and Xherdan Shaqiri on the wings, with Rafinha and Diego Contento backing them up -- has shown their ability to devastate opponents. And I'm not sure Dortmund has a deep enough bench to keep pace.

But, since we have to have something to talk about, Dortmund CEO Aki Watzke opened his big mouth regarding Bayern's loan of two million euro to the Ruhr club in 2004: "I would have rather gone begging than to borrow money from Bayern. In 2004 Bayern paid that money to my predecessors. And, regardless of that two million, BVB was nearly bust in 2005."

He continued, "If anyone maintains the standpoint that Bayern Munich helped the economical 2.0 version of Borussia Dortmund in any way, they are knowingly telling a falsehood."

It wouldn't be the first time Bayern had loaned out money to clubs in trouble, also providing help to St. Pauli and 1860. Uli Hoeness stating, "It was a critical situation for Borussia Dortmund. When they couldn't even pay their salaries we thought we should help. I'm a big fan of tradition in sport and I think it was the right thing to do."

Watzke would go on to state: "Bayern Munich has not played any role in helping Borussia Dortmund avoid administration, obtain a high rate of interest and regain all of their money." Is that a falsehood? Never once have I heard that the Bayern loan was based with interest.

Thomas Tress, Dortmund's CFO: "First of all it was very honorable from Bayern Munich, helping other clubs in critical situations. It was a critical situation for Borussia Dortmund. But it was not to save Borussia Dortmund because we are talking about two million. If you realize the financial debt was roughly 200 million, so two million does not solve the whole problem, but it helped. It was an honourable step and what's more to say?"

Not much, really, Mr. Tress. Unfortunately your colleague sees things a little differently. And certainly that 37 million coming your way from Goetze's release clause won't help Dortmund one bit.

Hmmmmph.