Bayern edge past Freiburg to break points record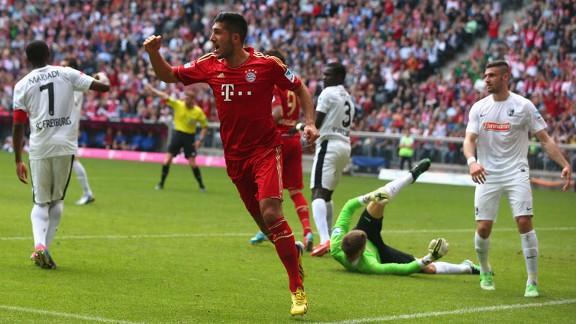 GettyImagesEmre Can celebrates giving Bayern the lead against Freiburg.
It's a curious day in the Allianz Arena when the loudest cheers from the stands were for other Bundesliga scores posted on the video screens. When no one can quite decide who scored the lone goal of the match. When a female streaker made it farther up the pitch than Barcelona did for much of Tuesday.

Eh, so it goes.

Jupp Heynckes made 10 changes to the side that massacred Barca midweek for the 1-0 win over SC Freiburg, with Jerome Boateng the lone holdout. Tom Starke -- yet to concede a goal in a Bayern kit -- deputized for Manuel Neuer, while Boateng was joined by Rafinha, captain Daniel van Buyten and Diego Contento in defense. Anatoliy Tymoschuk and Luis Gustavo were holding midfield partners, with an attack of Xherdan Shaqiri, Claudio Pizarro, Emre Can and Mario Mandzukic up top -- the Croatian, as well as Gustavo, needing minutes before Wednesday's away tie at the Nou Camp.

- Video: Bayern Munich 1-0 Freiburg (U.K. and Ire)

Prematch, Heynckes would praise Freiburg coach Christian Streich for pulling his team into a likely European spot next season. But Streich demurred, thinking his chances were low: "It's totally normal for Bayern to get four, five or nine goals against you." As it turns out, Streich's fears would be unfounded, as Bayern could never really get themselves together in attack against an organized third-ranked Freiburg defense.

Bayern got the early run of chances, but nothing really materialized as Contento struck first -- well over the bar, with Shaqiri busy shooting diminutive corners. Mandzukic might have gotten on the scoreboard, with a lovely forward pass from Tymoschuk, but another great chance went wasted as a Can cross found Mandzukic, with the Croat passing to Shaqiri, who would shoot just wide.

The away team would get a decent run of play, as Freiburg midfielder Daniel Caligiuri broke to the touchline only to be blocked out by Boateng while midfield partner Jonathan Schmid shot well over the bar after Bayern's defense failed to clear properly. A minute later, Schmid crossed in to Max Kruse -- his shot blocked by Boateng.

Contento made a mess of a one-on-one with keeper Oliver Baumann, chipping to a slipping Mandzukic instead of taking the shot. But Bayern finally got on the scoreboard after Diagne Fallou fouled Mandzukic -- the Senegalese defender getting the best of Mario throughout the afternoon. The ensuing free kick, taken by Shaqiri, barely glanced off Can's head past a confused Baumann for the midfielder's first Bundesliga goal. (Though, depending on who you talk with, the goal could be credited to Shaqiri.)

After a nice interchange by several FCB players in the box, Gustavo shot straight at Baumann to close out Bayern's offensive output for the half; note that Freiburg had as many shots in the first as Barca had the whole match.

The second half started out foul-y (yeah, I made it up) with free kicks being granted in succession for both sides before Can would try to snag a brace with a long-range effort that Baumann would fumble. Can came again, slipping out to Pizarro who also shot straight at the keeper.

Shaqiri would pick up his own rebound after a free kick, juking a defender and shooting wide right. And Pizarro got a trademark slide rule pass to Mandzukic, whose chip over Baumann hit the top of the crossbar.

Streich's defense remained compact, and Heynckes grew tired of a stagnant, off-target Bayern offense, subbing in Mario Gomez for the ineffectual Mandzukic and Franck Ribery for Can to cheers throughout the Allianz. The applause was founded, perhaps as Gomez's first touch -- a header from a Contento cross -- went just wide.

At the other end, Starke was called in to action denying Caligiuri from point blank with his foot. But the Bayern keeper wouldn't be bothered by a long-range Kruse shot -- well over the bar.

Freiburg's man of the match Diagne stopped Ribery on the touchline after a Gomez flick-on before Starke caught a corner, launching the ball expertly to Ribery -- the Frenchman unable to do anything with it.

Tymoschuk would be replaced by Javi Martinez as Heynckes was looking to get all three points, the Spaniard stabilizing an increasingly Swiss cheese Bayern defense. Mario Gomez got two more valiant attempts on goal, unfortunately for naught.

Shaqiri perhaps got the best chance to double the total as the match wore down. Ribery fed the Swiss international who strangely hesitated in another one-on-one situation with Baumann.

With the most touches, most completed passes, most won tackles and fastest guy on the pitch (per @redrobbery), Rafinha -- deputizing for Philipp Lahm -- notes special mention, as well as Contento, doing his best impression of David Alaba.

While most would call this a snoozefest, to you all I say: "You're unbelievably spoiled!" There was, after all, a female streaker to end the match. And what's more exciting than that?

Heynckes has made 51 changes in the last 11 Bundesliga matches week in and week out and incredibly won all 11 games. This win over Freiburg means Bayern breaks the points record for a season (now 84) previously held by 2011-12's Borussia Dortmund.

Didn't Juergen Klopp remark that his squad's points record would stand for a long time? Hmmmm ...