Goetze: Great for Bayern, bad for Bundesliga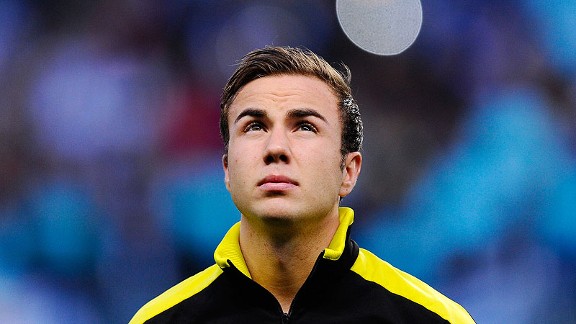 David Ramos/Getty ImagesSigning Mario Goetze is a coup for Bayern but is bad for a league in the ascendancy.
Twitter was buzzing as Tuesday morning began in Germany. Bild broke an exclusive story saying that Mario Goetze's release clause had been activated by none other than Bayern Munich. And while social media went bananas for a few hours, most level-headed people thought it prudent to wait until an official statement from either Borussia Dortmund or Bayern Munich.

We wait no longer.

Official statement from Dortmund from Hans-Joachim Watzke, club chairman of the board:

"Germany international Mario Goetze and his agent Volker Struth informed Borussia Dortmund a few days ago that Goetze wishes to trigger his release clause and move to FC Bayern Munich on 1 July 2013. We are obviously disappointed beyond measure, but emphasise that both Mario and his agent have behaved within the terms of the contract."

Now more than ever, BVB will not be distracted from the big dream of laying the foundation for a surprise in tomorrow's Champions League semi-final, the end goal being to reach the final at London's Wembley Stadium with an exceptional team that has developed over the years and has always risen to the challenges presented.

Report: Dortmund dealt Goetze transfer blow
Video: Gotze move confirmed

Together with coach Jurgen Klopp, sporting director Michael Zorc has asked that all Borussia Dortmund fans to support Mario Goetze unconditionally as they would any other player in the final games of the season, but especially in the important Champions League semi-final against Real Madrid. No official representative of Bayern Munich has contacted Borussia Dortmund about this matter up to this date.

The official statement from Bayern:

FC Bayern Munich confirms that the club has agreed terms with 20-year-old Germany international Mario Goetze for the player to join FC Bayern on 1 July 2013. FC Bayern is prepared to activate the contractual release clause agreed between Borussia Dortmund and Mario Goetze.

Out of consideration for the UEFA Champions League semi-final first leg between Dortmund and Real Madrid on Wednesday 24 April, FC Bayern had intended to wait until after the match before communicating this to BVB.

It's a coup, to be sure. Even one who likes nothing in black and yellow (myself included -- with the exception of former Bayern youth star Mats Hummels) can see how astonishingly talented Goetze is. The 20-year-old wunderkind has been hailed of late as "Germany's Messi" and has racked up 10 goals and nine assists in the Bundesliga, adding another two goals and four assists in Champions League play this season.

For Pep Guardiola it means an infusion of youth. Franck Ribery is 30 while Arjen Robben is the oldest looking 29-year-old around. Both are undeniably talented yet are often injured, hence why Xherdan Shaqiri was brought in from FC Basel last summer.

Does this signal the end for Robben at Bayern? He's been linked since 2011 with a move to AC Milan. Meanwile, Ribery has stated his intention to retire at Munich and I would think he's got a couple years left in the tank. Perhaps the biggest question here surrounds Toni Kroos. Out for the season with a groin tear, he's due for a contract extension in the summer. What happens to him now?

The transfer also gives Guardiola freedom to mix things up if he wishes, no longer stuck in a 5-4-1. Goetze, of late, has been used with the national team in a "false nine" role because of injuries to Mario Gomez and Miroslav Klose.

Mario Goetze also has the honor of being Bavarian. Worries that Pep was going to bring in an infusion of non-German talent -- Robert Lewandowski, Gareth Bale, Luis Suarez, anyone? -- seem to be unfounded as Bayern Munich is rightly keeping the club (mostly) German (with some Samba on the side).

If you wear red, you can't possibly be upset about Goetze to Munich -- Bayern gets Mario Goetze, meaning Borussia Dortmund loses Mario Goetze -- but in the grander scheme of things, is it good for the league?

The Bundesliga is on the ascendancy in European football -- but it was dragged there by Bayern and Dortmund. So making BvB less of a power (at least for now) means that the Bundesliga, once again, becomes a one-trick pony. (Thank god it's my pony!) Dortmund also runs the risk of losing Hummels and Lewandowski, further decimating the storied club.

"We have been winding Bayern up for two years," Juergen Klopp was quoted on this site. "We have really charged them up. The new approach they have taken with a new director of sport [Matthias Sammer] and their transfer activities also have a bit to do with us." They do, certainly. But sadly for Dortmund, if you poke at a bull, you're gonna get the horns. Why wouldn't they contractually cover their star players adequately?

And finally, the timing of this can't be overlooked. Bayern pips Dortmund's great young talent on the eve of the most important fixtures of the year for both clubs. But more importantly, no one is talking about Uli Hoeness' tax issues.

Taxes... what? We've got Goetze now.