Hannover 1-6 Bayern: The Reds cruise before Barca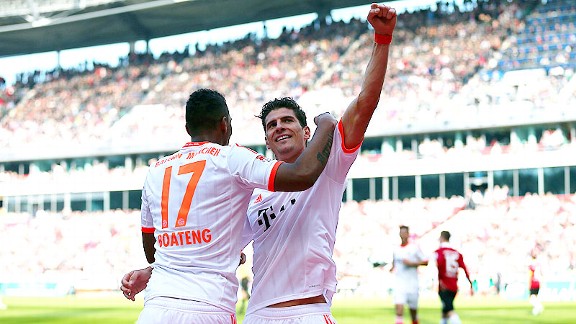 Martin Rose/Bongarts/Getty ImagesMario Gomez bagged a brace for Bayern in the lead-up to Tuesday's Barcelona clash.
Bayern Munich tuned up for Tuesday's match against Barcelona by thrashing Hannover 96 at AWD Arena 6-1. An own goal by Lars Stindl opened the account for the Bavarians, while Franck Ribery and Mario Gomez added to the first-half total. Gomez completed his brace in the second half, and Claudio Pizarro added two as well. Hannover was unlucky to only score once, with youngster Andre Hoffman capitalizing on a Manuel Neuer mistake.

- Match report: Hannover 1-6 Bayern

Bastian Schweinsteiger, Dante and the injured Mario Mandzukic didn't even make the trip to Hannover, meaning Jupp Heynckes fielded a slew of roster changes ahead of Tuesday's clash. In a match that Bayern could have been forgiven for drawing or losing, the coach started Neuer in goal behind a back four of Rafinha, Daniel van Buyten, Jerome Boateng and David Alaba. Antoliy Tymoshchuk and Luis Gustavo were holding midfield partners in front of an attack comprising Thomas Mueller, (a fantastic) Pizarro in the ten spot, captain Ribery and Gomez up top.

The first half-hour was all Bayern Munich -- threatening early with a thumping Ribery shot that hit the crossbar, a Gomez shot barely missing after a Mueller cross, and a Rafinha cross just blocked. After a long layoff, Hannover defender Stindl returned, only to score Bayern's first goal after Gustavo set up Alaba's touchline cross, deflecting the ball past Ron-Robert Zieler.

Pizarro cracked the underside of the crossbar six minutes later before he would release Ribery with a perfect slide-rule pass through two Hannover defenders. The Frenchman was the first scorer of the day to go through Zieler's legs.

"Bayern is truly the measure of all things," the GolTV commentator would say before a miscommunication between Neuer and Boateng -- after a Christian Pander cross -- found Mame Diouf unmarked, and almost meant one for the home team. But Boateng tightened up defensively as Pizarro and Gomez would get chances before Stindl tried to make up for his earlier gaffe, getting a diving save out of Neuer.

However, Pizarro -- with his beautiful second slide-rule of the day -- split Pander and Schultz just minutes later for Gomez to score. And it could've been four for Bayern before the half, with captain Steve Cherundolo tugging Ribery's arm in the box.

Arjen Robben took over for Ribery (including the armband) and Xherdan Shaqiri came on for Mueller, while Martin Slmoka brought on Didier Ya Konan for Sergio Pinto to open the second half. After a first-half disconnect between Bayern's attack and defense, the second half opened in favor of 96 -- Ya Konan having immediate effect with a low drive saved by Neuer. The Ivory Coast striker also won a free kick, and a shot over the goal in the next few minutes.

Pizarro took another whiff at goal before Gomez bagged his brace on 62 minutes, slotting through Zieler's legs after Boateng's fine service. Bayern, looking toward preserving form for Tuesday, sent Emre Can in for Gomez.

Peruvian Pizarro finally got his first after some lovely give-and-go between Shaqiri and Alaba, who slotted across for Pizarro. He is tied for eighth all-time on the Bundesliga scoring chart.

Neuer body-checked Mame Diouf, who was unable to continue. Gustavo did the same to Jan Schlaudraff, and Boateng received a yellow card for another check as Bayern was showing their physical superiority. But bossing around Hannover wouldn't keep them off the scoreboard as Hoffmann headed in a Neuer mistake. But Bayern took back its five-goal lead on the next play: Robben nicely assisted on Pizarro's second goal of the day, after rounding Zieler.

Referee Felix Zwayer called mercy, giving no extra time for Hannover to decrease its deficit. Bayern Munich, with four matches left, needs only one point to break the Bundesliga record for most points in a season.

Selection questions abound for Heynckes ahead of Tuesday's Barcelona showdown at the Allianz. Pizarro certainly made a case in the playmaker's spot (if not striker), while Boateng (after the initial gaffe) had a complete match, culminating in his assist on the day.

Whom might you be tempted to start against the Blaugrana?