Bayern comprehensively destroys HSV 9-2
"Koan Lewandowski" reverberated in all social media outlets as the possible Bayern transfer target scored the winner against Stuttgart on Saturday, denying Munich the chance to become the first team in Bundesliga history to win the league in March. And what an emphatic statement it would have been to secure the "salad plate" with a 9-2 massacre of Hamburger SV in front of 71,000 Bayern faithful!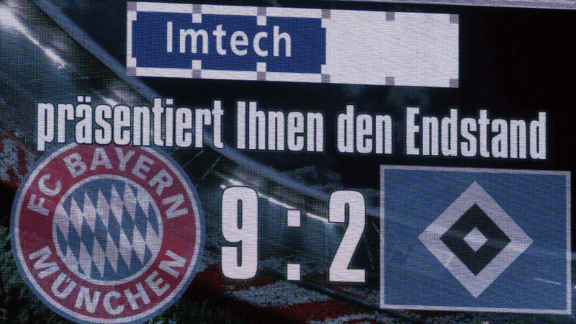 GettyImagesBayern Munich recorded the biggest Bundesliga win of the season against Hamburg last year

Yeah, Dortmund, you're still "Champions of Germany", just like Chelsea FC are still "Champions of Europe". Enjoy those titles while they last, y'all. In the case of the former - regardless of what BvB does next weekend- if Bayern beats Frankfurt that ugly plate comes home. And yes, you can call it "home" as nearly half all Bundesliga titles are held by Bayern Munich. It will be the 22nd Bundesliga championship for the Bavarian outfit, and the 23rd in total.

As much as I like a competitive match, it is even more gleeful to watch one like this. And while it's a shame about the two conceded corners, it was a lovely tune-up for Juventus on Tuesday.

Claudio Pizarro moved to tenth on the all-time league scoring list with four goals; leap-frogging his current boss at Bayern - Karl-Heinz Rummenigge. The Peruvian told Sky Sport post-match: "The four goals felt wonderful. We played well, and I was in good mood. The team is well on course. We want to be champions, and as the results are showing, we now almost have earned ourselves the trophy. We also can pick up another two yet."

Much was made about Jupp Heynckes' line-up pre-match, as Luis Gustavo got the nod at left back over a rested David Alaba. It would turn out that Diego Contento's pregnant girlfriend had gone in to labor, causing the German-Italian to be a scratch. Javi Martinez - suspended for the first leg against Juventus - was forced in to action alongside Bastian Schweinsteiger in holding midfield, while the Brazilian Gustavo filled an unusual role at wing back.

He played admirably in the unfamiliar role, linking up well with Xherdan Shaqiri- who deputized for Franck Ribery on the left. And when the French international came in the 65th minute, the link-ups and communication were still present.

Captain Philipp Lahm played so far up field to the point that I'd remark that Bayern was playing three at the back - Jerome Boateng, Dante and "Goose" - in a sort of 3-2-4-1 formation. Strangely effective against a HSV side that had nothing going for them. But, the Lahm-Robben pairing on the right was a devastating force. Say what you will about the Dutchman, but this match proves he is a viable and needed source.

A tights-wearing Robben scored his first on 33 minutes after a lovely leave off by Pizarro, Arjen finally beating Rene Adler, after he'd rounded him just minutes before. He'd complete his brace nine minutes after the half, cheekily chipping Adler.

Arjen was also involved in Schweinsteiger's goal on 19 minutes - providing the corner that set-up Bastian's header. Then Pizarro's goal on 31 minutes, when Martinez flicked his free kick to Claudio, and again at 45 minutes after Robben intercepted defensively and passed to Shaqiri - the Swiss catching the post, the rebound to Claudio finding the net. AND (!) Pizarro's hat-trick on 53 minutes - Arjen getting down to the touchline to cross it to Pizarro who scored with an equally cheeky backheel.

Pffffft! To all you Arjen Robben haters: I know who you are.

And while the Bayern men looked confident, smiling and relaxed? The sparkling form comes with a caveat, and one that always seems to be a troubling one for the boys in red: corner kicks.

Jeffrey Bruma would score HSV's first consolation goal, to make it 8-1 with 15 minutes on the clock, after a corner found him in a position that he could out-muscle Dante. And Heiko Westermann scored the second, from a Rafael van der Vaart corner four minutes from time.

Despite those "gloomy" corners, Bayern currently stands with a plus-65 goal difference, putting nine past a top-third defensively ranked Bundesliga side. On average, this season, Bayern is scoring six-plus goals for ones scored against - far surpassing Manchester United, Juventus and Barcelona (all league leaders).

Finally, I was lucky to see Bayern beat down Hamburg 6-0 in the Allianz in March, 2011. Just three days later, still in town, I saw Bayern get beat - for only the second time in my life live - to Inter (again!), and get tossed out of Champions League competition.

The Old Lady is not Inter. The tie is difficult. But, this is not 2010, 2011, or 2012's Bayern Munich. I relish Tuesday's match. Bring it, Juve!