My favorite matches: Bayern 2-1 Man Utd.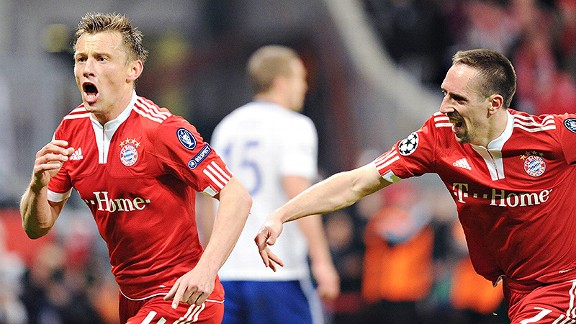 Oliver Lang/AFP/Getty Images Ivica Olic, left, and Franck Ribery celebrate the 2010 goal against Manchester United that kept the author's personal Bayern winning streak intact.
Should Borussia Dortmund fall to Stuttgart, Bayern Munich could conceivably pick up their Bundesliga trophy with a win over Hamburg Saturday. But they won't celebrate, says Karl-Heinz Rummenigge, as attentions are firmly fixed on the Champions League tie against Juventus.

"If we win the league, we will pick up the trophy on the penultimate day of the season at home to Augsburg," he told Bild.

With attentions fixed on Champions League, and no real stories from the Bayern camp, I thought I'd take the time to revisit another one of my favorite matches: Bayern Munich-Manchester United, March 30, 2010.

There were only 11 days between the quarterfinal draw and the first leg at the Allianz Arena, and I had to scramble for flights and match tickets. Unable to secure seats in the Suedkurve with the fan club, I was forced to resort to buying second-hand: Always a dodgy prospect as you're poring over websites, thinking, "Is this one legit?"

And already in a couple grand for the flight plus hotel, I figured if I was going to have to spend a lot of money, I might as well get two tickets and invite a friend.

I sighed audibly, in relief, on matchday as the courier showed at my hotel with an envelope for me, and I hopped on the U6 to the Froettmaning station -- with my purse full of beer -- to meet my dear friend Willi, the lucky recipient of my spare ticket.

He texted me on my long walk up the hill from the train station: "Are you here yet? I don't see you." "Yeah", I replied, "I'm the tall, blond German wearing a Bayern kit." Har har.

With the cash I splashed for the tickets, I would've thought our seats would be better, but we were in the block next to the Manchester United support, and I thought, "Well, at least we can harass them in English." But, the harrassment would have to wait as Wayne Rooney silenced the home crowd just a minute in, after a Nani freekick glanced off the wall and found the England striker open due to a slip by Martin Demichelis.

The Bayern Munich supporters sat stunned and the Startelf ran, stunned, on the pitch as Nani and Rooney were rampant. And it wouldn't be until midway through the first half that Bayern started to exert a little control.

Franck Ribery and Hamit Altintop would begin to create chances down the flanks, but Ivica Olic had the best chance to score after a weak punch out by United keeper Edwin van der Sar.

At the half, Willi and I had retreated out for a smoke break -- he, visibly nervous and me, strangely not. He said, "Susie, what if you came all this way, spent all this money, and Bayern loses?"

"Well, there's 45 minutes of football to be played", I said. "But, I was never going to not come to this match. It's Bayern Munich-Manchester United." I continued, "Besides, Franck is having a good match. We just might win this yet!"

"I wish I could be as positive as you are. But, you're our good luck charm," Willi said. At that point, I had never seen Bayern lose live.

Munich came out of the tunnel guns blazing- to open the second half and the 66,000 fans (less the 3,000 United supporters) began to believe they could overturn the deficit. Van der Sar was forced in to work, now, by Olic, Altintop and Mark van Bommel.

Danijel Pranjic almost leveled with a deflected shot that brought a roar out of the crowd before Louis van Gaal sent on Mario Gomez for Thomas Mueller. But, it would take 77 minutes until Bayern finally scored the equalizer: Ribery's 25-yard free kick bounced off Rooney, catching van der Sar wrong-footed.

And, finally, the traveling support were silent. As the ball was brought out to the center for the restart, I riled up the guys sitting on the other side of the fence, chanting: "You only sing when you're winning." Thousands of Manchester United supporters looked over at me with murder in their eyes. Yeah, still not making any friends.

Willi, sitting next to me, began to believe and we clutched each other's hands hoping -- praying -- for a second goal. It was almost United's as Ryan Giggs free kick found Nemanja Vidic, who crashed it in to the crossbar while I had a little heart attack.

Van Der Sar would be called in to action, again, at the end as Bayern were pushing frantically upfield, the Dutchman saving shots by Ribery and Gomez. But as the seconds agonizingly ticked away, Olic nicked the ball off Patrice Evra's foot at the edge of the box.

He steadied. He shot. He scored.

The final whistle blew. The stadium erupted. And I burst in to tears. Again.

Willi turned to me, grinning, and said: "Can we just keep you here in Munich?"