Klinsmann a 'big picture' guy
I watched the Euro 2008 final in Schwabing -- my favorite district in Munich -- at a posh Greek restaurant with a large group of friends. I had retreated back to our table after the 1-0 loss to Spain; weary of having to take pictures with every single Spanish supporter as I was decked out in a dirndl with a German flag for the apron. "Here! Hold all our beers," they would say, "And smile!"

- Bennett: Klinsmann & volatile U.S. chemistry

It was another German final that wasn't meant to be, and as we all sat a bit maudlin -- staring down into our beers -- a friend turned to me and asked, "So, Susie, you're in town for a couple more days. What are you doing tomorrow?"

"Dunno," I replied. "I've an article to write for ESPN . . . "

He interrupted me: "Remember, tomorrow is July 1st. Bayern Munich camp opens."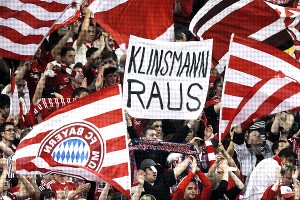 OLIVER LANG/AFP/Getty ImagesJurgen Klinsmann had a short, stormy tenure at Bayern Munich, whose fans were very clear about their desire for him to resign in April 2009.
I broke out in a grin. ". . . ..So, I'm going to the Saebener Strasse to see Jurgen Klinsmann's first day as Bayern trainer!"

And, off I went to the training grounds the next day; clamoring for space on the fences with 5-year-olds and eventually getting a handshake from Klinsi himself -- the coach a little stunned to find an American in the bunch.

Klinsmann's signing to lead Bayern was a curiously optimistic one by the Munich brass; Uli Hoeness and Karl-Heinz Rummenigge were content -- excited, even -- to have Juergen change the Bayern philosophy to a Zen "Mir san Mir" one.

Statues of Buddha were sprinkled around, there were meditation rooms, and -- gasp! -- even a DJ console in the revamped Saebener Strasse.

But as the season got down to brass tacks, it became painfully obvious that the pairing of Klinsmann and assistant coach Martin Vasquez were lacking in the X's-and-O's department. Klinsmann's previous coaching experience with Germany, while a positive one, was dependent on the tactical wherewithal of Joachim Loew -- a luxury Klinsi had to do without at Bayern Munich.

Tossed out of the DFB Pokal by Bayer Leverkusen, embarrassed by Wolfsburg 5-0, and drubbed by Barcelona in Champions League quarterfinals, an April 1-0 defeat to Schalke 04 -- which saw the Bavarians drop to third in the Bundesliga -- was the last straw, despite only being three points out of first place.

Hearing shouts of "Klinsmann Raus!" from the Suedkurve, and fearing missing direct Champions League qualification for the 2009 season, the front office handed him his pink slip. Hoeness would later call him an "expensive mistake".

In 2011, when Klinsmann was hired by the United States to replace Bob Bradley, I fielded a lot of questions from USMNT supporters: What did I think about him? How did I think he would do?

And trying to put a positive spin on it all, I would answer, "Well, you know . . . He's a 'big-picture' kind of guy. And that's what you all were looking for, right?"

He was brought in to revolutionize what was an increasingly stagnant United States side. Indeed, he's had some measure of success: Beating Italy away, beating Mexico (finally!) in the Estadio Azteca, and tidying up a 2012 calendar year with the best win percentage in the team's history.

But after a 2-1 loss to Honduras in the Hexagonal, and upcoming qualifiers against Costa Rica Friday and Mexico Tuesday, Sporting News journalist Brian Straus would drop a grenade of an article on the United States soccer world.

Critical of Klinsmann's methods and coaching acumen, it was a piece that came as little surprise to anyone who covers German football.

And while I concur with Straus about tactics and acumen, I found the degree of anonymity in the article to be highly distasteful. If you've got something to say? Own it, a la Philipp Lahm in his autobiography: "We practically only practiced fitness under Klinsmann. There was very little technical instruction and the players had to get together independently before the game to discuss how we wanted to play."

So, is this "second verse, same as the first"? Perhaps. Although, the USMNT doesn't need all six points from the next two matches, the pressure is certainly on for Klinsmann to produce positive results.

The question is: Will the team, the public, the journos and bloggers give him the time to put his coaching philosophy in to place?

As footy explodes in viewership and fans in the United States, the most telling thing is that we are having this conversation at all. While chatting with BeINSport's Phil Schoen on Twitter about the outrageous level of criticism in the footballing universe, he reminded me of Bill Shankly's famous quote: "Some people believe football is a matter of life and death, I am very disappointed with that attitude. I can assure you it is much, much more important than that."