Heart-attack inducing Bayern narrowly progress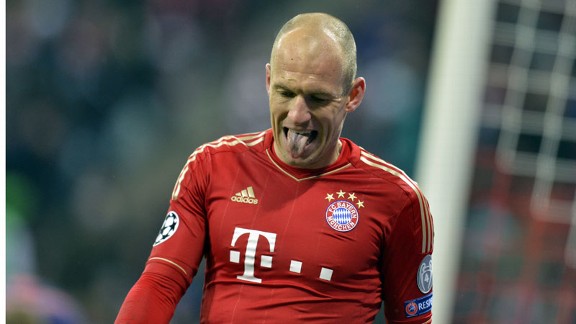 GettyImagesArjen Robben was kept quiet by Arsenal and Lukasz Fabianski
Arsenal does the almost impossible, circa last season, nearly overturning Bayern Munich's 3-1 away win in London. Oliver Giroud shocked Munich, opening the scoring on just four minutes before Laurent Koscielny scored four minutes from the final whistle as Bayern Munich held on to away goals to progress against the English side despite slumping to a 2-0 loss.

Thump-thump. Thump-thump. Thump-thump.

Yeah, that was my beating heart, exacerbated by a traffic snafu on my way to my local to watch the second leg of the Bayern-Arsenal tie. I'd never had a chance to settle in and focus before the match was upon Bayern on a snowy day in the Allianz Arena.

Just three minutes in, David Alaba slipped in front of Theo Walcott, leaving the Englishman plenty of time to cross low in front of the goal directly at Oliver Giroud who promptly knocked it in to the top of the net.

A 'slipping' or 'sleeping' Bayern were caught off guard in the opening minutes but got back to work soon after as Toni Kroos warmed (my man of the match) Lukasz Fabianski's hands after Bayern had conceded. A flurry - that amounted to nothing - came for Munich for the rest of the first half, despite Santi Carzola's near miss and Theo Walcott fizzing in front of Manuel Neuer.

Philipp Lahm had a blocked shot, Javi Martinez skied one, and Toni Kroos was denied by Fabianski as the best chances for Bayern to level were wasted. But they applied tons of pressure early on in the second half; Robben shooting just wide, Kroos from distance, and a tantalizing Mueller cross that found no takers before Walcott broke away and was wrongly adjudged to be offside.

Thomas Mueller got a couple more shots off - both saved by Fabianski - and Luis Gustavo shot just wide from distance. Fabianski continued his MOTM run with a one-on-one save against Arjen Robben after the cheekiest of Mueller backheels played the Dutch international through.

Daniel van Buyten denied Mikel Arteta and Gervinho got a weak shot off, before another Bayern set-piece concession, leaving Santi Cazorla to assist Laurent Koscielny's header to take the Gunners 2-0 up over the home side.

The final whistle blew as Munich held defensively for the final few minutes, escaping on away goals with a 3-3 aggregate scoreline.

Whew! First of all, Arsene Wenger's mind games may have done a bit of work on Bayern Munich. Credit to him for achieving that. Initial reports had the Gunners coming in with a B-squad to face Bayern, knowing that the Swans lurked on the weekend. But starting Fabianski instead of Wojciech Szczesny? A stroke of brillance or dumb luck?

Jupp Heynckes resorted to possession-based football - without a lot of luck. Even with the lion's share of the ball (54/46), and a gaudy shot total (23/5), Bayern were still unable to find themselves on the scoreboard. Toni Kroos seemed to lack confidence in the pairing of Luis Gustavo and Javi Martinez and played entirely too far back in his playmaker's role, while Mario Mandzukic was never where he was supposed to be for scoring opportunities.

Despite a poor tactical showing by Heynckes, Bayern progressed by the skin of their teeth. By. The. Skin. Of. Their. Teeth. But, after being held scoreless for the first time this season, and a run of inferior play for the last three matches, perhaps this coaching legend - in Heynckes - needs to make some changes to see his end at Bayern Munich a proper one.

Good on ya, Gunners! Hope to see you back in the competition next year.