An all-German final in the works?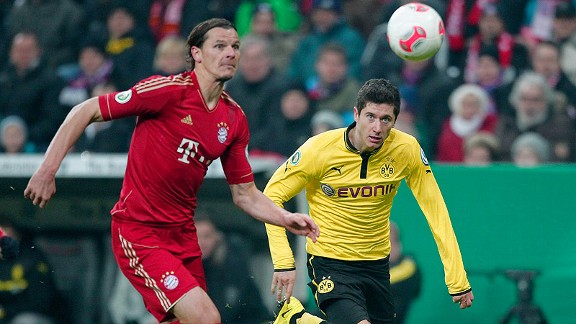 Boris Streubel/Getty ImagesDaniel van Buyten of Bayern Munich, left, could end up renewing acquaintances with Borussia Dortmund's Robert Lewandowski, right, in the Champions League final.
With three Bundesliga teams looking to go through to the last of eight of the Champions League, the re-ascendancy of German football -- according to some -- is upon us. The rest are frankly surprised as to how this could have happened. Whether your theory lies in sound business models, homegrown players or what-will-you, this would be the first season since 1998 that three German teams progress to the quarterfinals.

- Badstuber: Pep can make Bayern better

The Afterthoughts

Yes, Schalke 04 has had a tough time of it this season, dropping to ninth in the league after the 4-0 shellacking Bayern Munich put on them in early February. But the wheels seem to have found themselves back on the Knappen train as their next three results -- a draw at Mainz 05, a win against Fortuna Duesseldorf, and a beat-down of Wolfsburg -- garnered them seven points; they are currently in a sixth place European spot.

In the seething cauldron of Galatasaray, die Koenigsblauen netted a crucial away goal from Jermaine Jones to end the first half after Burak Yilmaz had opened the scoring on 12 minutes. These two teams will meet up again on Tuesday in Gelsenkirchen. But first, a tasty Revierderby looms with the oh-so-popular Borussia Dortmund. Here's to hoping that match doesn't sap too much energy from a Schalke side that is still competing for European qualification next season.

The Media Darlings

While Borussia Dortmund's early season Bundesliga form leaves them a distant second to Bayern Munich -- the latter recently also dumping Dortmund out of Pokal competition -- the German team that everyone (who is not a Bayern supporter) loves to love demolished Shakhtar Donetsk 3-0 at home on Tuesday to win 5-2 on aggregate without defensive talisman Mats Hummels. Felipe Santana, in Hummels' stead, made up for his gaffe against Munich with a 31st minute header. Mario Goetze and Jakub Blaszczykowski adding the other goals for die Schwarzgelben.

Without having that pesky Pokal competition to worry about, and the Bundesliga largely out of reach, Dortmund can focus most of its energy on the Champions League only needing to maintain a top three spot in the league for next season's qualification. And it looks like that's where Jurgen Klopp's mind has been the whole time, as his squad famously topped the Group of Death.

The Elephant in the Room

Nobody really wants to talk about Bayern Munich, except to say that they'd rather not face them. After Barcelona lost their first leg away to AC Milan, Munich would jump out as the punter's favorites, only to be replaced by Real Madrid after they stunned Manchester United. But while Madrid faced early season woes, like Barcelona has of late, only die Roten have been consistently winning all season long.

Piers Morgan would famously tweet after Man United's loss: "@piersmorgan: IT'S OFFICIAL -- Arsenal are the only English club still in this year's Champion's League." Hmmmph. Enjoy your week, Piers. Although it's not a foregone conclusion, Arsene Wenger would need a miracle to overturn Arsenal's 1-3 loss in the first leg at the Emirates.

With Bastian Schweinsteiger missing the return leg at the Allianz Arena next Wednesday, Jupp Heynckes will likely do a bit of squad rotation in Saturday's match against mid-table Fortuna Duesseldorf in getting his squad set for Arsenal.

The last podcast I recorded I totally gaffed, as I wasn't thinking ahead to Champions League competition. But, now I can set it aright as I think Javi Martinez and Luis Gustavo get the start in holding midfield, with Anatoliy Tymoshchuk coming in to get second half minutes in case he's needed against the Gunners.

Is this the match that Dante gets a rest? I would have tipped him to sit last week, but Manuel Neuer got the break instead. Daniel van Buyten and Jerome Boateng should be more than adequate against a side that has managed less than 30 goals this season.

While I would like Mario Gomez to get another start with a proper playmaker, I see Heynckes going with Mario Mandzukic up top, with Toni Kroos in the ten spot, and Franck Ribery and Thomas Mueller on the wings. Arjen Robben has overcome his thigh muscle and should also see time on the pitch, as Mueller was less-than-spectacular in Bayern's narrow 1-0 victory at Hoffenheim.

Should Schalke and Bayern hold up their respective ends of the bargain, the Champions League quarterfinal draw March 15th will be an interesting one. Do Bayern and Dortmund end up on the same side of the bracket? Does Schalke have a shot at overcoming a fellow league side? Or do fans of Bundesliga football get to push for an all-German final in Wembley come May?