Exhausted Bayern survives Hoffenheim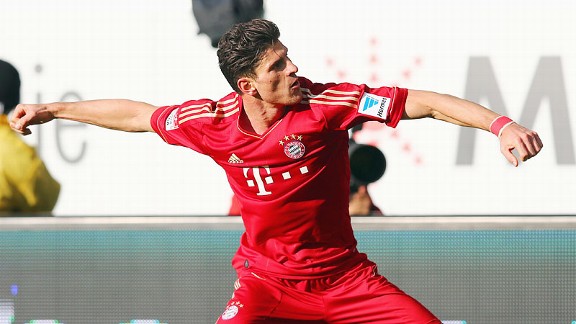 Alex Grimm/Getty ImagesBayern were not at their best, but Mario Gomez's goal was enough for the three points.
An exhausted Bayern Munich retook their 17 point lead atop the Bundesliga table with a 38th minute Mario Gomez finish that could barely peter across the line to secure a 1-0 win. It was fitting, perhaps, for a largely disorganized Bayern side that was put to the test by seemingly relegation-bound Hoffenheim on a sunny afternoon at the Rhein-Neckar-Arena.

- Video: Hoffenhiem 0-1 Bayern Munich (UK & Ireland)

Jupp Heynckes, as expected, did rotate a few players in: Gomez got the nod up top, Toni Kroos made way for Xherdan Shaqiri in the playmaker's spot, Franck Ribery was reinstated on the left after serving his cup suspension, Jerome Boateng gave Daniel van Buyten a rest and Tom Starke would deputize for Manuel Neuer -- Bayern's starting goalkeeper sitting bored auf der Bank instead of standing bored between the sticks.

Hoffenheim did well in the opening minutes, closing down space quickly whenever Bayern had the ball. And the visitors, despite retaining the lion's share of possession, were definitively missing a last touch, giving the hosts chances to fast break.

Bayern's first chance came on nine minutes after American Fabian Johnson brought down Thomas Mueller just outside the box. Bastian Schweinsteiger struck the ensuing free kick well, eliciting a save from Heurelho Gomes with the sun in his eyes.

Jerome Boateng saw yellow from Thorsten Kinhoefer in the 13th minute and the resulting Kevin Volland free kick would get through Philipp Lahm, Gomez and Schweinsteiger in the box for Danny Williams who failed to convert. Williams, minutes later, would rip from distance, shooting just wide of a diving Starke.

Dante would wrongly be called for a foul by Kinhoefer -- clearly a handball by Igor de Camargo -- but Bayern would slowly turn the tide in their favor after some lovely passing and a David Alaba thumping strike at Gomes.

Finally, Munich would get on the board after one of Boateng's trademark long balls forward found Ribery; the Frenchman heading down to Gomez who just got enough of the ball to see it cross the line, scoring his sixth of the season.

Marco Kurz would send on Roberto Firmino for Takashi Usami to open the second half but Bayern would win a number of fouls, giving them four free kicks in the opening ten minutes of the second half. But, Achtzehn would keep battling as Lahm would clear a Firmino cross, and Starke punched out from former Bayern youth Patrick Ochs.

An interchange between Mueller and Lahm was almost picked up by Shaqiri before he was defensively subbed for Luis Gustavo -- the Brazilian seeing minutes against his former side. But Stephan Schroeck would force Starke in to a diving save before he picked up yellow for tripping Ribery.

Man-of-the-match Schweinsteiger hit the crossbar -- then the post -- in the next two free kicks for die Roten, as Gomez made way for Mario Mandzukic; the Croatian heading wide in the 80th minute.

Substitute Eren Derdiyok saw the third Hoffenheim yellow for a foul on Ribery, and Firmino would threaten again on the break, shooting wide. But Bayern would keep trying, as the final chance for FCB would come from David Alaba after a lovely Ribery backheel.

Despite the gritty, frustrating nature of the match it was one Bayern ultimately deserved to win. Well played by Kurz's men, however, as they kept defensive form and threatened well on the break.

Poor performances almost everywhere on the pitch for Bayern, but getting over the midweek hurdles of Arsenal and Dortmund must have done a number on them. Despite all that, this game stretches Bayern's streak of not conceding away in 584 consecutive minutes -- beating the old Bundesliga record set by Koeln in the 2009-2010 season. It is also the first match since last April that Bayern hasn't won by multiple goals.

Three points? I'll take 'em.