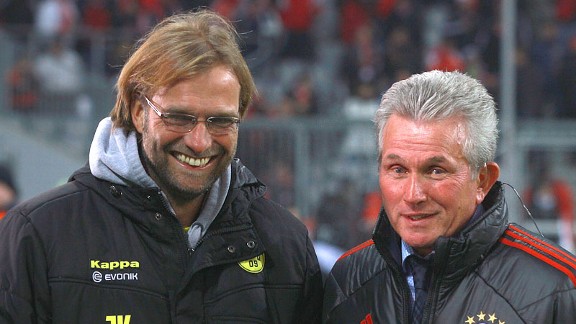 Alexander Hassenstein/Getty ImagesAlthough seen here together smiling in a November 2011 photo, Dortmund manager Jurgen Klopp, left and Bayern's Jupp Heynckes have recently exchanged testy words.
While Jurgen Klopp might have been amused after Arjen Robben's strike Wednesday saw Bayern Munich through to the DFB Pokal semifinals, things would quickly take a turn for the worse as a battle of words ensued between Klopp/Hans-Joachim Watzke and Jupp Heynckes/Karl Heinz-Rummenigge.

Uli Hoeness tweaked some noses saying that the balance of power in German football had been restored -- for now. But Rummenigge would be a bit more gracious, stating: "We're happy to have won today, but it's important that we're not arrogant about this. When Dortmund beat us last year, they were always very fair to us, and we will be the same to them today."

Klopp, waiting a whole day, got the cauldron going: "Bayern go about football in the same way that the Chinese go about industry. They look at what the others are doing, and then they copy it with other people and more money. And then they overtake you."

- Klopp words spark row

Sour grapes from a man who was beaten at his own game, and rightly so, as Dortmund had no real answer for Munich on the day. Heynckes smartly replied: "FC Bayern has been around longer than Jurgen Klopp has been a coach, and they have always had their own style of play. It's important for one to show respect in both victory and defeat -- but especially in defeat."

"Bayern are certainly not a club who can tell us how to behave in defeat," Dortmund's general manager Watzke chimed in, "It's not as if they've quite mastered it themselves."

Fair point, Herr Watzke. While the Bayern-Dortmund matches don't have the same sociological and political overtones that El Clasico does, these two teams have quickly become top rivals in an already exciting Bundesliga. Klopp and his gang would like BvB to be percieved as David to FCB's big, bad Goliath, but the truth actually lies somewhere in between.

But with Bayern's utter domination of this season's league, and definite favorites to win the Pokal, Dortmund is left with no choice but to concentrate wholly on Champions League competition. A good result at home following their 2-2 away score at Donetsk should see them through to the next round, while it would take an Arsenal miracle to see Bayern not advance.

Dortmund still has a Bundesliga match against Munich in early May, and the possibility looms for two more if these two teams are drawn together in the Champions League.

In the end, though, Klopp would step off the crazy train, saying on television before Dortmund's match against Hannover 96: "The last thing I want to do is criticize a respected colleague. Jupp is an outstanding coach. If you're listening, sorry."

Nice words from Klopp upon some reflection, apparently, but for now, this rivalry door has shut as Bayern get an early Sunday match at Hoffenheim's Rhein-Neckar Arena.

You wouldn't call it a "B" team, but Heynckes will have the luxury of some squad rotation against a reeling Hoffenheim side. In the pre-match conference Heynckes noted he would: "Make changes in one or two positions. But it won't be just for the sake of it. There has to be a good reason."

Rafinha and Emre Can are both not fully fit, while Claudio Pizarro is still recovering from the flu. But, Franck Ribery is available after his suspension for the cup match, and will expect to play. Robben will probably get the nod as well.

Luis Gustavo should see some time against his former team -- possibly for Javi Martinez. And I'm wondering if this is the match to give Dante a break, with Daniel van Buyten and Jerome Boateng in central defense?

Eh. Who knows what Don Jupp will do. Bayern is chasing their 20th Bundesliga win in 24 matches, against a side that only has one victory in 13 games. Heynckes, ever complimentary to opposition before a match, said: "They're wounded, so we'll have to be very watchful and wary."