Squad rotation may be in order with an eye on the Pokal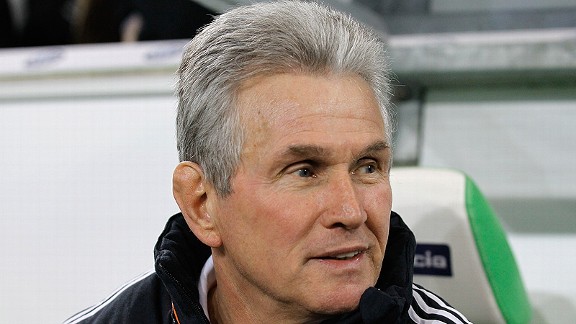 Boris Streubel/Bongarts/Getty ImagesBayern Munich Jupp Heynckes will celebrate his 1,000th Bundesliga match against Werder Bremen.
While Tuesday's Champions League win against Arsenal saw Bayern Munich remain undefeated in 2013, Jupp Heynckes employed a slight tactical shift that saw his team give up the lion's share of possession to the Gunners, especially in the second half. His confidence in Bayern's team defense would be repaid with a 3-1 victory, the sole goal from Arsenal coming from a corner that should have been a goal kick.

Back in Bavaria and looking to Saturday's match against 11th placed Werder Bremen, Heynckes will certainly have one eye on the mid-week Pokal clash with Borussia Dortmund. I have a feeling you'll see some familiar faces getting a start on Saturday, the players either needing some minutes before the Dortmund game, or rested to be fresh for Wednesday.

With Franck Ribery's suspension for the Pokal in play, Arjen Robben will certainly get a full 90 minutes against die Gruen-Weissen in lieu of Thomas Mueller. Xherdan Shaqiri, recovered from his ankle injury, should also see some second half minutes.

Up top, Heynckes is likely to go with Mario Gomez instead of Mario Mandzukic -- resting the Croatian for mid-week. And while Claudio Pizarro is eager to get some minutes against his former squad, he is doubtful with a virus.

Spanish midfielder Javi Martinez may possibly be rested for Luis Gustavo, who would partner with Bastian Schweinsteiger in holding midfield. And Jerome Boateng, recovered from a virus, is likely to feature at one of the center back spots. It will also be interesting to see if Heynckes chooses to rest his defensive talisman, Dante, for this one.

Heynckes, celebrating his 1,000 match as a Bundesliga player and coach, would only say for sure that Robben and Ribery are getting the start, and the rest of the squad would be one "full of harmony and which all fits together".

- Heynckes ready for 1,000th Bundelsiga match

On the Werder side of things, Thomas Schaaf is missing captain Clemens Fritz and Sokratis, both out with the flu. But Aaron Hunt and Theodor Gebre Selassie will both be returning.

On-loan from Bayern, Nils Petersen has scored 11 goals in all competitions for Werder this season, and currently lies sixth alongside Mueller in the Bundesliga scoring race. In an interview with Bayern Magazin, he said: "I'm looking forward to the stadium and seeing former teammates again. And fortunately, Bayern's position in the table is so comfortable; I can't do them any harm with Bremen."

When asked about his loan spell to Werder being up in the summer, Petersen said, "I genuinely enjoyed my year in Munich, but the most important thing for every player is regular football. So I'll wait and see what Bayern have planned for me. I'm basically in a very good situation: If FCB say I'm an integral part of their plans, I'll be happy to return. If that's not the case, I could very well imagine my future being here with Werder."

It's looking more and more like the latter might be the case.

With a regular return to mid-week matches, supporters of Bayern Munich should begin to see a (thankful) shift to a squad rotation. And with a team happy, healthy and rested, there's no reason this incredible run in 2013 has to end anytime soon.

I had mentioned in my Arsenal review that I had done the Bundesliga Show podcast with Matt Hermann. If you'd like to know what I sound like, you can catch it here.

Thanks, as always, for listening and reading!