My first time at the Emirates - a song of discord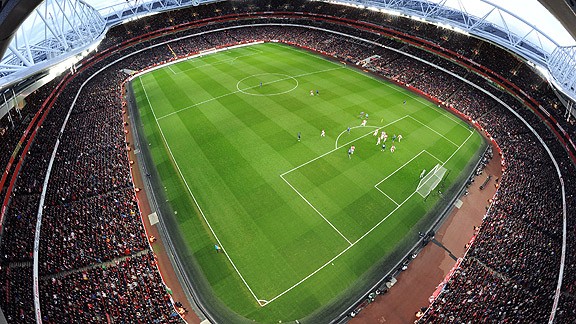 Stuart MacFarlane/Arsenal/Getty ImagesThe author will be making her second trip to the Emirates next week. The first one ran into some complications near the end.
As I leave for London Thursday to witness Bayern Munich at the Emirates next week, I am reminded of my first time in London a little over a year ago. I had booked a random weekend trip, since I had never been to England and was wondering what all the fuss was about.

Only after I'd made my flight and hotel reservations did I check the Premiere League schedule for the days I was there. Certainly one of the London-based clubs was at home, yeah? Fortuitous timing, as it would turn out: Manchester United was coming to town to play Arsenal. I quickly snapped up a couple of tickets in the Clock End, knowing I had a couple friends in the city who were Gunners supporters.

Neither local lad could accompany me to the match, and with a day until the game I was left holding on to an extra ticket. Not relishing the thought of having to sell the other seat outside the stadium, I called my dear friend, Dex, a New York City-based Manchester United supporter.

I owed Dex big-time. Flash back to 2009 - he was studying in Florence while I was on one of my silly jaunts across western Europe. We would agree to meet in Rome for the Champions League final, though I would be alone for three days with him only arriving on matchday.

A tall, blonde-haired, blue-eyed unaccompanied American girl sticks out like a sore thumb in that town. And I would retreat from seeing the sights - and the constant harrassment of multiple Romans following me everywhere I went (Ciao! Bella! Bella Ragazzi! Ugh) - to an Irish pub; immediately enveloped and befriended by the traveling English and Irish United support.

No matter that I was a Bayern Munich fan - and as an American girl, a football curiosity. I spent those days with the lads, in front of the pub, drinking Harp and Jaegermeister in the warm Roman sun, learning every Manchester United chant ever.

Dex would finally get to town, and we would spend an extraordinary amount of money on scalped tickets for the final. Then disaster would strike on the tram to Stadio Olympico: I got picked. Off went the tickets and the rest of my cash, and we would watch the match from a temporary pub across the street from the stadium.

I was horrified for him. For me, it was just money, as I very highly dislike both Manchester United and Barcelona - I just wanted to go to the spectacle of a final. So three years later I got the chance to make it up to him. Just get a flight, I would tell him, I've got the hotel, match tickets and booze money. With one giant caveat: sitting in Arsenal season tickets meant that he couldn't say a word. No colors. No kit. No shawl. Nothing.

We would walk over the Thames the day of the match and have a cab drop us off close to the stadium, looking for a pub where we could mix, in disguise, with the locals. I immediately made friends with someone wearing an Arsenal Mertersacker jersey ("I got Per's name," he would say, "cos if I have to spend 100 notes on a strip, I'm getting the longest name possible."). As the afternoon wore on, it would slip out that Dex was, in fact, a United supporter. But, we would enjoy good-natured banter as we walked to the Emirates.

As it would turn out, Dex wouldn't be the problem. Antonio Valencia would open the scoring from a Ryan Giggs cross, and Dex would nearly break my hand - squirming and grunting in his seat. Robin van Persie would equalize for the Gunners, but Valencia would break the deadlock with 10 minutes to go as I offered Dex my other hand to abuse.

I would be the one to get us in a pickle. Our seats ended up being directly over the Manchester United support section, and when they would start chanting, I would unconsciously sing along. Dex would hit me in the arm saying, "Jesus, Susie! Shut up."

"Oops," I'd reply, "I can't help it! I hear a song I know, I sing the song." Abuse was beginning to be hurled at me - none of which I can repeat here - with the only thing preventing a guy planting me a facer was his father sitting in between us. Toward the end of the match, I would turn around in my seat and apologize, saying, "Jeez. I don't like either club. I'm a Bayern Munich supporter."

Yeah, not making any friends.

I tell this story because finding a ticket for the Champions League match in the Bayern support section as akin to getting Willy Wonka's Golden Ticket: Nigh to impossible. So, I will be at the Emirates on Tuesday, somewhere in the crowd, not wearing any colors and hopefully keeping my damn mouth shut.