Intensity ahead of Mainz clash
Wednesday's training session at the Saebener Strasse was tough on Franck Ribery as he was bloodied from a slightly studs-up Bastian Schweinsteiger tackle, taken down by Javi Martinez and treated for a bloody nose. The intensity of the practice showing Bayern Munich is taking FSV Mainz 05 very seriously ahead of Saturday's showdown at the Coface Arena.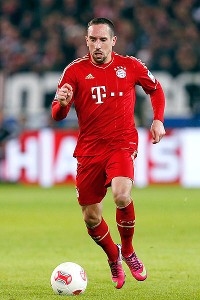 AP Photo/Matthias SchraderAfter a rough midweek training session, Franck Ribery might be relieved to be playing a different team Saturday at Mainz.
As well they should. Thomas Tuchel's Mainz is fifth in the Bundesliga with a fantastic home record (7-1-2), and Tuchel himself has done better than most against the Bavarian outfit, as Bayern has lost two of their last three in the Rhineland. Even Jupp Heynckes sings Thomas praises, saying in a pre-match press conference: "Tuchel is predestined for Bayern."

What was supposed to be a battle of two of the top strikers in the league -- with Bayern's Mario Mandzukic on 12 goals and Mainz's Adam Szalai on 11--- has come to naught as Szalai picked up his fifth yellow of the campaign last week against Greuther Fuerth, and is now facing an untimely one-match suspension. Nineteen-year old Shawn Parker, returning from injury, is likely to be his replacement.

Heynckes is (sadly) unlikely to make any changes to his Startelf that has beaten Greuther Fuerth and Stuttgart by two goals apiece to open the Rueckrunde. He told the team website: "I won't be making many changes at the moment. The team has to come together as a unit, and we have to keep winning. I refuse to take risks in the circumstances." But, with Xherdan Shaqiri out with an ankle knock, you might expect to see Arjen Robben as a second-half substitution.

Die Nullfuenfer, lately known for their excellent pressing play, will sit back and defend a bit more with the loss of Szalai, hoping to catch Bayern on the break. It'll be up to die Roten, once again, to unlock an organized Mainz defense. The key to that will be a more accurate last touch; something that has been lacking in their last two outings.