The Pep Guardiola rumour mill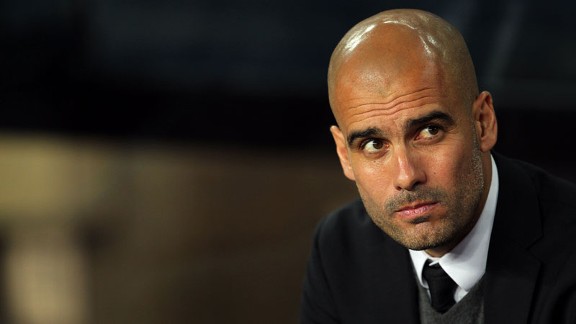 PA PhotosPep Guardiola is not expected to return to coaching before the end of the season
I know the Bundesliga winter break is as boring for you as it is for me. And trust me, it's tough to come up with material on a regular basis when: 1) everyone's getting along. 2) only two winter transfers were made. 3) the club looks in good shape in all competitions. So, I was idly perusing Twitter for topics to write about (and eating popcorn while watching Didi Hamman and Joey Barton fight) when two Italian football pundits - Gianluca Di Marzio (@dimarziotweets) and Tancredi Palmeri (@tancredipalmeri) - tweeted Sky Italia had reported that Pep Guardiola had agreed to terms with Bayern Munich.

Well, huh. Now what does an Italian news station know about a Catalan coach joining a German team? And why wasn't this reported anywhere in Germany? The fact that there is no written press to verify (and I have looked), means it must have been a television story only. This information should be taken with a pinch of salt, but the timing seems like there might be some legitimacy to the claim.

As far back as last May, there have been reports linking Pep to the Reds - as well as every other team on the planet - when his brother, Pere, had reportedly held preliminary talks with then-sporting director Christian Nerlinger in Madrid (according to Bild). Luca Toni fuelled the fire further when he told this to Bild am Sonntag back in October: "He asked me before about FC Bayern. I believe that the club's philosophy would suit him, and he is a very good coach who could be perfect for them. He would add something extra to the German mentality."

Speculation dimmed a bit when Mr. Guardiola was interviewed at the Ballon D'or awards, saying, "They have Jupp Heynckes and it would be a lack of respect to talk to a club that has a coach." OK, fair enough. But then TZ broke the news that Pep's representative, Josep Maria Orobitg had travelled to Munich to meet with Bayern representatives.

Kicker.de took it a step further with an article stating that the talks with Heynckes - that were originally set for February or March - would now be moved up to this month, or "in the coming days" as the article suggests. That same piece also offered up a couple of other candidates that are on the shortlist for the Bayern spot should Jupp not extend his contract: Roberto di Matteo (who speaks German, by the way) and Mehmet Scholl (legend).

As far as the rumors of Pep to other teams? The Sun, as recently as two days ago, reported that 'a top source in Spanish football revealed': "It is 100 per cent certain that Guardiola is going to City this summer. And when I say 100 percent I don't mean 99 percent, I mean 100 percent!" Erm, OK. 100 percent. Even though the Daily Express has opined that Chelsea's Roman Abramovich has put together a three-year deal in the realm of 66 million euros for the ex-Barcelona manager. And, Berlusconi wants to give him a villa on Lake Como?!

The one thing that has always gone in Bayern's favour for Guardiola's services - rather than Chelsea or Manchester City - is how similar FCB is to, well, FCB. Both are huge clubs with a focus on tradition and a family atmosphere with excellent youth systems. And both make money - not relying on the deep pockets of billionaire owners.

But, we'll see. The ball is still in Jupp's court. And the Bayern bosses are almost certain to accept any decision he makes, although sooner might be better for all involved.

Do I think he'll join Bayern? Well, the punters rarely get it wrong, and a Guardian blog stated that Munich were the overwhelming favourites (4/7). But for now, I'll just keep my spy network in New York going; waiting and watching for Pep to buy Rosetta Stone at a mall kiosk, or enter a language school.