Bayern batter Schalke in Qatar friendly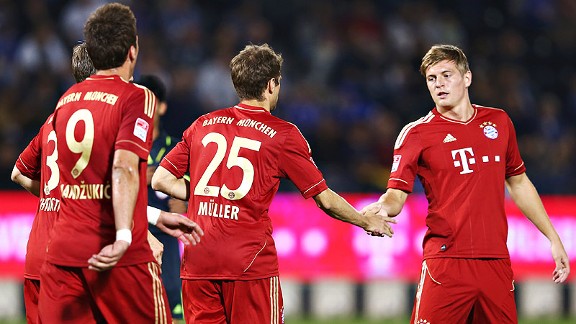 Alex Grimm/Bongarts/Getty ImagesThomas Mueller, center, is congratulated by Toni Kroos, right, after the first of his two goals in Qatar
Bayern Munich ended an intensive week in Qatar on a high note, battering Schalke 04 5-0 Tuesday. First-half braces by Thomas Mueller and Mario Mandzukic and a second-half strike from Mario Gomez saw the Reds utterly dominate the Royal Blues over 90 minutes.

The Munich men fly back to Europe Wednesday, with friendlies against FC Basel and Unterhaching over the weekend rounding out their winter break program.

Manuel Neuer got a rare night off as Tom Starke was handed the start against a nearly full-strength Schalke side. An injury to Jerome Boateng meant Daniel van Buyten started at center back next to Dante, with Philipp Lahm and David Alaba on the wings. Javi Martinez and Bastian Schweinsteiger lined up in in front of the back four, with Thomas Mueller, Toni Kroos, Franck Ribery and Mario Mandzukic leading the attack.

- Kroos, Schweinsteiger socked with fines

And attack they did! Although Starke would make a couple of routine saves against Julian Draxler and Ciprian Marica early on, FCB struck first on ten minutes as Timo Hildebrand tripped Mandzukic in the box. Mueller netted the ensuing penalty.

If you can't stop Franck Ribery, you've got little chance of beating Bayern Munich. Schalke was unable to supress the Frenchman, allowing him to run rampant down the left flank. Ribery provided the assist on the second goal on a counter-attack after he drew Hildebrand out of the net in a one-on-one situation, then leaving off for an onrushing Mueller.

Ribery would get his second assist after dribbling his way in to the box on 33 minutes; drawing defenders and passing to Mandzukic, who finished. Ten minutes later the Ribery/Mandzukic combination struck again, garnering Franck his third assist.

Up 4-0 at the half, Jupp Heynckes would get his deep bench involved - only Starke and Schweinsteiger stayed on for the second half. Rafinha, Emre Can, Luis Gustavo and Diego Contento were the second-half back four, with Ukrainian Antoliy Tymoshchuk partnering Bastian (who would eventually be subbed for Hojbjerg). Arjen Robben, Claudio Pizarro, Xherdan Shaqiri and Gomez comprised the attack.

Peruvian international Pizarro fired off a couple of attempts, but Gomez would scored the fifth for Munich after a Xherdan Shaqiri cross. It wasn't all Bayern, however, as Starke would save from 17-year-old Max Meyer. Klass-Jan Huntelaar broke free of FCB's defence in the closing minutes, but was twice unable to get a shot off. Timo Hildebrand made a great save at the end, denying Arjen Robben and Munich a sixth goal.

All in all it was a lovely account from Munich. Whether it was due to Schalke's increasingly poor form, or Bayern's excellent one, is up for debate. It certainly whetted my appetite for Bundesliga football- only 10 more days until the Rueckrunde! Can't hardly wait!