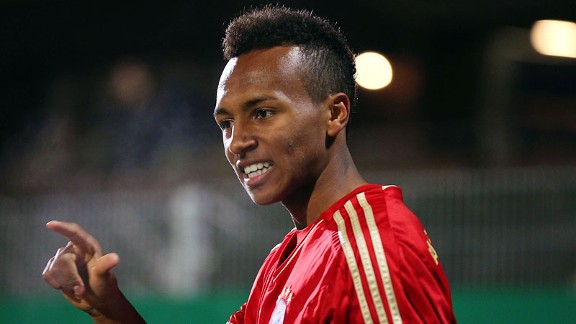 Thomas Niedermueller/Bongarts/Getty ImagesFlorida-born Julian Green is one of the many emerging young talents at Bayern Munich.
With the winter transfer market upon us, and the Bayern Munich crew working hard in Doha, I bring you three players to watch over the next half season. One is loaned out, one is coming in and one is coming up. All are talented young men and they should feature heavily in Bayern's future plans.

- Heynckes: Trophy drought unacceptable

Son of Wolverhampton Wanderers coach Patrick Weiser, Mitch Weiser grew up in the 1. FC Koln youth system, debuting fairly recently in their first team last February. He came over to Bayern at the beginning of this season, but with the acquisition of so many established players, has found it hard to break into the first team.

The 18-year-old is simply too much of a talent to play for Bayern Munich II as he featured in the second-placed German U-17 UEFA Euro squad and third-placed U-17 World Cup squad. He'll get plenty of match experience with 2. Bundesliga side Kaiserslautern and will return to Bayern at the end of this season.

Jan Kirchhoff, one of young Germany's bright defending talents, has agreed to leave Mainz and join Bayern at the end of this season on a free transfer pending a medical. He has made 12 appearances for Mainz this season and 51 overall in the Bundesliga.

The six-foot, five-inch defender has also featured for Germany's U-18, U-19 and U-21 squads. Matthias Sammer on fcbayern.de said: "We're delighted we've been able to bring this highly-talented Under-21 international to FC Bayern. I'm personally very pleased he's chosen to take on the challenge."

So those of you pestering for a center back? Bayern got one of Germany's best. Just not in enough time to help out for the Arsenal tie.

Julian Green was born in Tampa to an American father and German mother. After his parents split, he went to Germany with his mother and was soon running circles around the other kids on the pitch. Bayern took notice when he was 12 and Green has belonged to the youth academy since then.

He scored a team-high 18 goals for Bayern Munich U-17 last season and as a 17-year old has been promoted to the U-19 side. Since he holds dual citizenship with both Germany and the United States, he is eligible to feature for either national team, although he has yet to be called up.

A versatile attacker, he generally plays center forward, but can also play in the hole or on either wing, and hopes to one day break in to the senior side, telling Yanks-Abroad.com: "FC Bayern belongs to an elite circle in the football world where only the best play. So it is only normal that it would be a dream come true if someday I would be chosen to play for the first team."

"The past has shown that several players from the FC Bayern youth have managed to turn pro and become essential parts of the first team," he added. "In this year's Champions League final alone, five players from the FC Bayern side all had come from their own youth. I will try my best and hope, that I too will be selected for the first team in the near future."