My Favorite Matches: Getafe 3-3 Bayern, 2008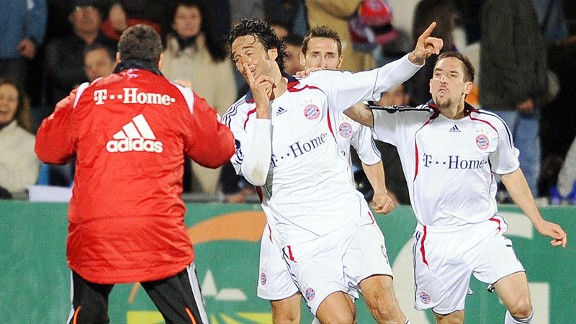 Javier Soriano/AFP/Getty ImagesLuca Toni's miracle extra-time brace made for a memorable Bayern draw
April 10th, 2008

I was in Charlotte, N.C., visiting with a group of bloggers from around the United States and Europe. As the only footy supporter in the bunch (yes, I am friends with people who don't watch football), I sent the girls out shopping and tracked down a pub to watch the second leg of the Getafe-Bayern UEFA Cup quarterfinal tie.

I found Ri Ra in the heart of downtown- a lovely Irish pub which has since burnt to the ground and been rebuilt. It was quiet on a weekday mid-afternoon, after the lunch crowd but before happy hour started, and I took a seat towards the back of the bar - asking the bartender for a pint of lager and Fox Soccer Channel. Oh! And could I get a bit of volume as well?

The first tie had ended somewhat disastrously for Bayern in Munich a week earlier as the hosts squandered many chances. Luca Toni opened the scoring for die Roten in the 26th minute, but Getafe substitute Cosmin Contra would score the equalizer at the death; chipping over Oliver Kahn and giving the Azulones great hope of making it through to the next round.

Things couldn't have started out better for Munich in Spain as Ruben De la Red was shown a red card just six minutes in for a foul on Miroslav Klose just outside the box. The ensuing free kick saw Franck Ribery hit the post. Toni would tap in the rebound, but the goal would be called off for handling. And I would start to attract attention from the few people in Ri Ra as I squealed, "ja"-ed, and "nein"-ed through the first 10 minutes.

Getafe, down to 10 men, would be under pressure for most of the first half but the hosts would manage to strike first. Contra charged through open space on the wing, beating Martin Demichelis and crushing the ball past Kahn.

Bayern coach Ottmar Hitzfeld would send his men forward looking for the equalizer but this would allow Michael Laudrup's Getafe chances on the counter-attack. Munich would get lucky a couple of times as Braulio rounded Kahn but slipped. Minutes later on another break Jaime Gavilan, and Braulio again, would fail to convert. And I would ask the bartender for a little more volume as to drown out the sounds of my agony. Oh! And another pint of lager, please!

Turnabout would be fair play, though, on the 89th minute as Ribery would pick up a loose ball, volleying for the equalizer. Things would start to get interesting as the match headed in to extra time: Could Getafe, a man down, hold out after the equalizer? Could I have a shot of Jaegermeister?

It took three minutes of extra play to seemingly nail the coffin on Bayern as Javier Casquero would score in the 91st, and Braulio in the 93rd minutes bringing the score 3-1 to Getafe. But, Bayern with a man advantage would not give up. As I would not give up. All of my friends already had, as much of extra time play was spent by me answering "sorry for your loss" texts from all over Europe and the United States. To which I tersely replied: "It. Is. Not. Over. Yet."

Toni would hear my pleas in the 115th minute as he tapped in a Pato error. And my friends' texts would change to: "I'm not even an FCB supporter, but this match is amazing!" My heels were clacking on the wood floor as I was now no longer able to stay seated, anxiously pacing out the last five minutes. Four minutes. Three minutes. Two minutes. One minute. 15 seconds...

Jose Ernesto Sosa ('member him?) crossed to Toni. Toni headed past Pato. The final whistle blew. I screamed, then promptly burst in to tears. My phone blew up. The patrons of Ri Ra were unnerved by me; laughing through my tears, a pint of lager in my shaking hands.

I would return a couple of days later, with my fellow writers, to the same pub. We ordered a round of drinks and the bartender - making small talk - said: "It's been strange around here lately. Unfortunately one of our older patrons suffered a heart attack the other day."

"How sad," we said. "What happened?"

"There was some crazy woman in here watching a football match, and her scream at the end frightened the woman to death."

As my eyes opened wide and my jaw dropped, he started laughing. And then I ordered another pint of lager.