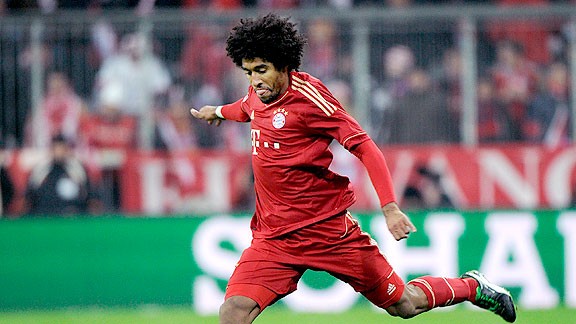 Lennart Preiss/Bongarts/Getty ImageSince joining Bayern over the summer, Brazilian defender Dante has been one of the most valuable players for the German side this season.
The first half of this season started much like the last -- with Bayern Munich absolutely killing it in three competitions. But whereas the Reds got complacent late in 2011, that does not seem to be the case in 2012. First in their Champions League group, through to the last eight of Pokal competition and crushing the Bundesliga, the men from Munich well deserve their winter break. Let's take a look at the best from the first half.

- Marcotti: Breaking down the Champions League

Goal of the Hinrunde: November 4th. Hamburg-Bayern. Thomas Mueller scored the second of the day on 48 minutes for die Roten: A beautiful, implausible goal. Franck Ribery chipped into the box to Mueller who was forced out wide by Marcel Jansen and chased down as well by HSV 'keeper Rene Adler. Nearing the touchline, Mueller turned and shot over Adler, curling the ball into the net from a near-impossible angle.

Runner-up: Javi Martinez opens his scoring for Bayern Munich with a bicycle kick against Hannover 96.

Most improved player: While we're talking about him... Mueller, while doing alot of things right off the ball last season, had a difficult year showing up on the scoreboard. In 53 apperances in all competitions in 2012, he netted a paltry 11 times, yet this half-season has already seen him score 13 goals.

A few days ago, Mueller repaid his team's faith in him, extending his contract to 2017. "Thomas Mueller was educated here and has become a very important player for Bayern," club chairman Karl-Heinz Rummenigge said on fcbayern.de.

Runner-up: Toni Kroos. Kroos had a rather indifferent 2012 season, scoring seven goals in 51 appearances. This year he's managed eight at the halfway mark.

Most valuable player: Dante Bonfim Costa Santos was acquired from Borussia Moenchengladbach last season for a transfer fee in the realm of five million. In my opinion, it was money very excellently spent. With the season-ending injury to Holger Badstuber and the somewhat indifferent play of Jerome Boateng, the Brazilian and his fabulous afro has been an absolute rock in central defense -- often the last man standing in front of Manuel Neuer.

He complements his defensive prowess with a head for set pieces. Although he's only scored once so far this term -- in the 5-0 win against Hannover -- he has come close numerous other times. I wouldn't be surprised to see several more headers from him this year.

Runner-up: Franck Ribery. He has returned to the form that made him such a valuable acquisition for Bayern in 2008. His recent match against Borussia Dortmund is one of the best I can recall from him. The only reason he didn't win my MVP is that there are times he shows impatience in front of goal, or an unwillingness to pass when that would have been a better option.

And finally, Jupp Heynckes and Matthias Sammer have done a fantastic job with the squad so far this year. With a bench as deep and as strong as this one is, they have managed not to ruffle too many feathers along the way. Everyone is doing their part -- whenever called upon -- to ensure the team's success.

Heynckes gets big props for his smart second-half substitutions, changing the pace of the game to whatever Bayern Munich needs. A little motor here, a little shut-down there has seen die Roten amass a total record of 27 matches played, 21 wins, four draws and two losses. They have scored 71 goals along the way, conceding a paltry 15 for a total goal differential of plus-56.

Not too shabby for a first half.

I wish you all the merriest of Christmases! Thanks for reading and for your astute contributions! What's your top goal, and who are your top players for the Hinrunde?