Bayern draw Arsenal, Dortmund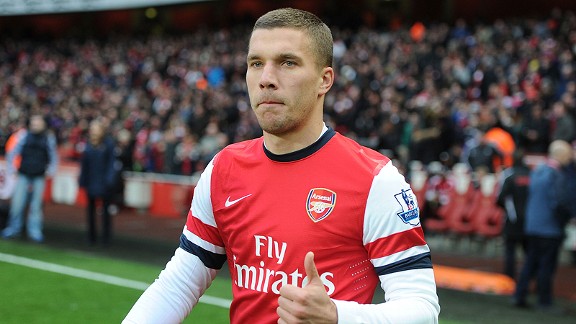 Stuart MacFarlane/Getty ImagesAll eyes will be on former Bayern Munich man Lukas Podolski who faces his old club in the Champions League round of 16.
On Wednesday afternoon, Dale Johnson (here, of ESPN fame) posted on Twitter that they'd held a mock draw: Manchester United meeting Real Madrid and Bayern Munich facing Arsenal in the round of 16 of Champions League competition. Amazing that it would bear out to be true in Nyon, Switzerland on Thursday!

- Muller inks new deal at Bayern

Wednesday, however, came with some tougher news as the DFB Pokal was drawn directly after the last round of matches; with Bayern Munich famously getting Borussia Dortmund. I wouldn't be incorrect in saying that most fans of German football were hoping that these two teams would meet in the final in Berlin.

The matches against Arsenal will be played on Tuesday, February 19th at the Emirates in London, and Wednesday, March 13th at the Allianz Arena in Munich. Meanwhile the quarterfinal Pokal match against Dortmund will take place tentatively on February 27th in Munich.

Gunners manager Arsene Wenger has been on the hot seat this year, as his side lie 15 points behind leaders Manchester United in the Premier League. He hasn't, so far, been able to adequately replace Robin van Persie -- who went to Manchester United over the summer -- or Cesc Fabregas -- who left for Barcelona the year before.

Transfers of Santi Cazorla from Malaga, Olivier Giroud from Montpellier and Lukas Podolski from Koeln have resulted in a mixed bag for Arsene. None of the three have truly stepped up to be the scoring machine that the Gunners desperately need. But, despite the disappointment, it would appear that Wenger still commands respect, as the young quintet of Jack Wilshere, Kieran Gibbs, Carl Jenkinson, Alex Oxlade-Chamberlain and Aaron Ramsey have all recently signed new contracts with the club.

They'll be looking to bring a fresh face or two in during the winter transfer market, and I wouldn't be surprised to see an old one as well in Thierry Henry. The 35-year old recently completed his MLS season with the New York Red Bulls, and would be available to Wenger in January and February.

Bayern playing an Arsenal side with an Arsenal legend on the pitch? In London? I can't think of anything better than that!

Borussia Dortmund received a tricky Champions League tie in Shaktar Donetsk, as no club enjoys playing away in Eastern Europe in February. And while the Schwarzgelben have been a disappointment in the Bundesliga so far -- in third position, 12 points behind Bayern Munich -- they have killed it in cup competition; slaughtering FC Oberneuland, VfR Aalen and recently Hannover 96. Bayern Munich will be their first true test.

After famously letting Dortmund pass them last season for the Bundesliga title, Bayern also suffered a cup final humiliation by the same opponents, losing in Berlin 5-2. Bayern would finally beat BvB in a somewhat meaningless Supercup match preseason and would have to settle for a draw 1-1 in the Allianz Arena earlier this month due to the heroics of 'keeper Roman Weidenfeller. Would it surprise anyone if this quarterfinal match went to penalties?

While both opponents are manageable, Bayern Munich will have to do without two key players in the Pokal and Champions League next rounds due to red cards. Franck Ribery will miss the match against Dortmund for slapping Augsburg's Koo Ja-cheol in Tuesday's win. While the Frenchman would be a lovely inclusion to the squad, Bayern should have the services of Arjen Robben back by then, and Xherdan Shaqiri has more than proved himself able to start in Ribery's spot.

The red card Jerome Boateng suffered against Borisov in Bayern's 4-1 home win will make life a little tricky for trainer Jupp Heynckes. The loss of Holger Badstuber for the season means the only two proper centerbacks Bayern can field against Arsenal are Dante and Daniel van Buyten. Should one of the two go down, Heynckes will have to rely on Antoliy Tymoshchuk, Luis Gustavo or Javi Martinez to fill in.

Arsenal is tough -- yet, manageable, so is Borussia Dortmund. Will February get here already? I can't wait!