Ten man Bayern advance to Pokal quarterfinal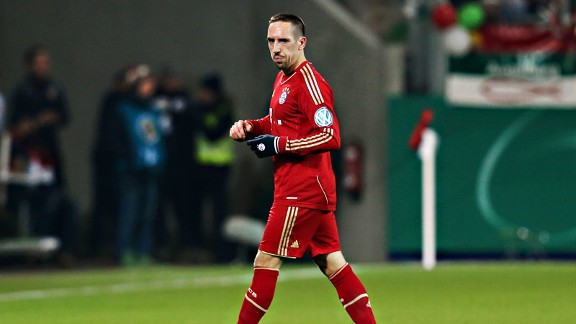 Thomas Niedermueller/Bongarts/Getty ImagesFranck Ribery walks off the pitch after receiving a red card during Bayern Munich's cup match versus Augsburg.
A Franck Ribery red card. Yellow cards for Dante, Antoliy Tymoshchuk, Toni Kroos and David Alaba, as well as Augsburg players Ronny Philp, Koo Ja-Cheol and Sascha Moelders. A goal denied. Yeah, it was your typical derby cup match in Augsburg.

- Gomez hopes Heynckes stays at Bayern

Ten days ago, Bayern played in this same stadium, and ultimately came away with the same result, 2-0. And while the matches were different in its technical fluidity for the Munich men, Augsburg definitely showed up to play both games, unconcerned by Bayern's lofty position.

While Bayern was lucky from a refereeing standpoint in their Bundesliga match, die Fuggerstaedter would get lucky here. Thorsten Kinhoefer and crew would miss an obvious goal by Tymoshchuk, and keep eleven men on the pitch for Augsburg; even though Ja-Cheol was the instigator in the flap with Ribery.

Although Augsburg would press high, forcing Bayern back a bit, die Roten would open the scoring on a lovely exchange by Bastian Schweinsteiger and Ribery in the 26th minute. The French international squeezed a pass in to a surrounded Mario Gomez in the six-yard box which he promptly toed home.

Ribery's red, just two minutes after the re-start, saw Bayern down to ten men. Dante would get lucky (indeed, the only call that went in Bayern's favor) after handling in the box and not getting flagged for a penalty.

Jupp Heynckes would make smart substitutions; sending on Javi Martinez for Tymoshchuk and Mario Mandzukic for Gomez in the 58th minute, with the Spaniard Martinez settling things down in holding midfield. But, Augsburg would continue to press, and Bayern would be forced in to a 4-3-2-0 sort of formation. Heynckes' third substitution -- Thomas Mueller for the booked Kroos -- would prove to be the difference maker. In the 85th minute, Mueller would break and unselfishly square to a waiting Xherdan Shaqiri, the Swiss international pipping 'keeper Manninger from eight yards out.

Heynckes on fcbayern.de: "We knew it would be extremely tough. It's the last match of the year. The players have already moved on mentally. We didn't play well in the first half. In particular, our switching from defence to attack malfunctioned. We've had a lot of matches so far this season, and you have to accept you'll have an off day. The red card was the result of provocation, but there's no disputing the decision. FC Bayern players have to brush that kind of thing off. We were much better in defence after the substitutions, and I knew we'd always be a threat on the break. Overall I'm very satisfied, because we've been outstanding for long periods in the first half of the season. It can't go better than this."

Sadly, Bayern has no competitive football until January 19th when the Rueckrunde begins with a visit from Greuther Fuerth. But, a quick look at the first half sees die Roten top of the table in the Bundesliga, into the quarterfinals of the DFB Pokal and first in their Champions League group. Only the matches against Leverkusen and Borisov were true disappointments.

Any thoughts of who Bayern gets in the Champions League draw on Thursday?

Odds and ends:

Can anyone tell me what was up with the puppet?

Manuel Neuer got to be more involved today and had a great match.

Ribery has got to rein in his temper a bit. It's been costly, for sure.

Bayern is pretty good at time-wasting, eh? It was making me laugh during the second half.

I hate when a referee loses control of a match. And it definitely happened here; right at the point when Tymo's goal was disallowed.

Augsburg did a nice job with our midfield. Transitions were definitely lacking in the opening half. It got better in the second half with the inclusion of Martinez. He's not going to show up a lot stats-wise, but he definitely is looking worth the investment.

Congratulations go out to David Alaba and Mandzukic! Alaba kept his title of Austrian footballer of the year, while Mandzukic won his title in Croatia. Good job, men!