Plucky Augsburg fail to contain league leaders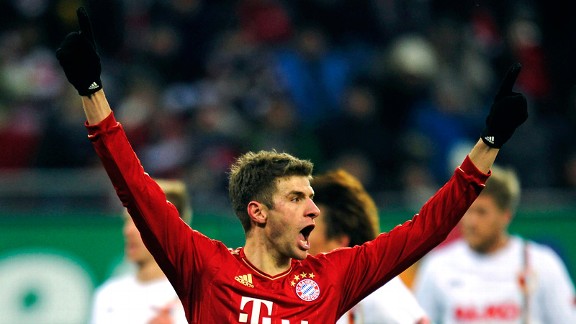 Daniel Kopatsch/Bongarts/Getty ImagesBayern's rested stars looked rusty vs. Augsburg on Saturday, but Thomas Mueller eventually broke things open en route to a 2-0 win.
A plucky Augsburg side valiantly faced league leaders Bayern in the latest incarnation of their Bavarian derby. An unfortunate handball in the box by die Fuggerstaedter would give Bayern a penalty before the half and die Roten would go on to double the score in the second. As such, a 2-0 win forthe Rekordmeister sees them now 11 points clear at the top of the table, albeit with a game in hand over Leverkusen who plays the late match on Sunday.

Before Saturday's afternoon matches, Bundesliga supporters marched together all over Germany -- most notably in Augsburg and Berlin -- in support of fan culture against the DFL and DFB. League managment has scheduled a meeting for December 12th to decide on tougher searches, larger penalties for already banned flares and a possible ban on standing terraces. Given the tension, protests of silence have already been observed for all Bundesliga matches in stadiums over the past couple of weeks.

Hesse: Fighting for fan culture

The home side started off lively as Bayern -- having given many starters a rest in midweek -- brought back an "A-side" that didn't look so at all. Philipp Lahm, Jerome Boateng, Dante and David Alaba made up the back line in front of Manuel Neuer. An exhausted looking Bastian Schweinsteiger and Javi Martinez were the holding midfielders, leaving an attack of Thomas Mueller, Toni Kroos (in the hole), Franck Ribery and Mario Mandzukic up top.

The visitors were soon caught on their heels as Augsburg had two good scoring chances in the opening minutes: Sascha Moelders lost the ball at his feet in the box before Neuer saved Knowledge Musona's at his near post.

The frenetic pace would continue, with Bayern getting half-chances until Jupp Heynckes ordered his club in to a higher line, forcing FCA into two defensive banks of four. Mario Mandzukic would then miss three great scoring chances in the space of nine minutes. Despite the Reds having the run of play, Tobias Werner forced a save out of Neuer after the ball took a wicked bounce in front of him.

Finally, Thomas Mueller broke the scoreless deadlock in the 38th minute as Augsburg defender Gibril Sankoh handled in the box, scoring the ensuing penalty for his ninth goal of the Bundesliga season and matching five other players with that total for the Torschuetzenkoenig title.

The second half started with no changes to either side, but a scant three minutes later Mario Gomez could be seen dancing on the sidelines. Bastian Schweinsteiger was lucky not to see his fifth yellow of the campaign after a late tackle on defender Jan-Ingwer Callsen-Bracker, convincing referee Jochen Drees that nothing bad had happened.

Newly-single Gomez would soon replace Croatian international Mandzukic, needing only two minutes to double the score for Bayern as he got past Sankoh and fired home a ten-yard drive.

Aristide Bance and Stephan Hain would come on for Augsburg as manager Markus Weinzierl was still trying to mount an offensive, but Heynckes had an appropriate response in Rafinha and Antoliy Tymoshchuk, who effectively shut the home side down until the final whistle blew.

Elsewhere, a bad spell of refereeing in Dortmund saw the home side lose to Wolfsburg 3-2 and Schalke 04 was beaten 3-1 at Stuttgart, meaning Bayern Munich are now 14 and 16 points ahead, respectively, of their Champions League counterparts. Friday finds die Roten hosting 'Gladbach in the Allianz Arena before journeying to the SGL Arena for a DFB Pokal tie with Augsburg on December 18th -- Bayern's last competitive match before the winter break.

On that note, if there's anything you would like me to discuss during the break? Shoot me an email at susie.schaaf@gmail.com. I'm open to suggestions and questions.

Odds and ends:

With Philipp Lahm being rested midweek, he sure got caught out a lot on the right.

Did Bastian borrow those leggings from Arjen Robben? And what happened to the short sleeves / gloves combination? Bring it back, Basti!

Mario Gomez recently split from childhood squeeze, Silvia, leading fan girls all over the world to rejoice: "So, you're saying there's a chance?"

I'm super-happy I purchased a Dante strip on my recent trip to Munich. The man has been an absolute rock. Impressive.

Tymo should have also seen yellow for putting his studs in to someone's chest. Unlucky for Augsburg that Bayern had the ref in their pockets.